North West 200: Record holder Alastair Seeley on pole positions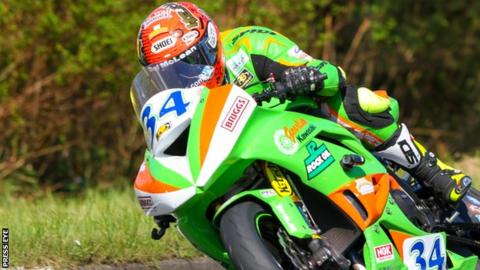 North West 200 international road races
Dates: Tuesday 9 May-Saturday 13 May Venue: Triangle Circuit, Portstewart, Coleraine, Portrush
Coverage: All practices and races live on the BBC sport website and BBC Radio Ulster; Highlights on BBC One NI Friday 12 May, Sunday 14 May and Monday 15 May
Record holder Alastair Seeley will be on pole position in the Supersport and Superstock races when he tries to add to his tally of North West 200 wins.
The 37-year-old from Carrickfergus has won 17 races on the 8.9-mile Northern Ireland road circuit and goes for more glory on Thursday and Saturday.
Thursday's final qualifying session was halted because of an accident involving English rider John McGuinness.
The 45-year-old sustained a suspected broken leg, race organisers said.
Last year Seeley won both Supersport races and he was top of the podium in North West three events in in 2012 and 2015.
His first NW200 was in 2008 and last year he beat the 15 wins achieved by the late Robert Dunlop.
Michael Rutter showed he is in the form to add to his 13 North West 200 wins by taking pole position in the Superbike class.
The 45-year-old's last NW success was in 2012.
Seeley was second in the Superbikes ahead of Northern Ireland riders Glenn Irwin and Michael Dunlop.
THURSDAY'S VAUXHALL NORTH WEST 200 PRACTICE TIMES
Superbikes
1. Michael Rutter
BMW
122.345 mph
2. Alastair Seeley
BMW
121.81
3. Glenn Irwin
Ducati
121.566
4. Michael Dunlop
Suzuki
121.10
5. Martin Jessopp
BMW
121.311
6. Peter Hickman
BMW
199.842
Supersport
1. Alastair Seeley
Kawasaki
116.812 mph
2. Lee Johnston
Honda
116.298
3. Michael Dunlop
Yamaha
115.751
4. Martin Jessopp
Triumph
115.530
5. Dean Harrison
Kawasaki
115.466
6. James Hiller
Kawasaki
115.300
Supertwins
1. Martin Jessopp
Kawasaki
109.226 mph
2. Michael Rutter
Kawasaki
108.799
3. Dan Cooper
Kawasaki
107.910
4. Lee Johnston
Kawasaki
107.416
5. Ivan Lintin
Kawasaki
107.336
6. Derek Sheils
Kawasaki
106.280
Superstock
1. Alastair Seeley
BMW
123.203 mph
2. Michael Ruter
BMW
121.820
3. Lee Johnston
BMW
120.633
4. Ian Hutchinson
BMW
120.597
5. Dean Harrison
Kawasaki
120.446
6. Martin Jessopp
BMW
120.140