Pete McGrath to ponder future as Fermanagh manager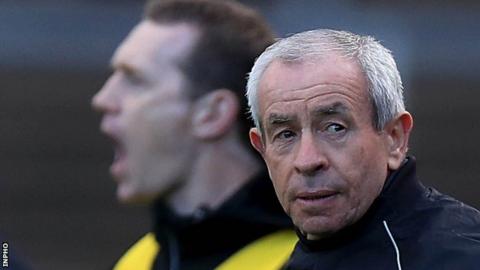 Pete McGrath believes his future as manager of Fermanagh will be clarified in a matter of days.
After Sunday's defeat by Armagh in the first round of the All-Ireland qualifiers, McGrath said his management team would think things over.
This year Fermanagh lost to Monaghan in the preliminary round of the Ulster Championship, and were relegated to Division Three in the league.
"We will take a few days and then make a decision," said McGrath.
"You have to make a decision which is going to be best for everyone - the players, the county and myself.
"We will look at the whole landscape.
"If we decide to go, we'll go. If we decide to stay it is up to the county board if they want us."
McGrath accepted 2017 had been the worst of his four-year spell as Fermanagh manager.
However, the former Down manager has his backers who believe he has done a creditable job, including taking the Erne county to the All-Ireland quarter-finals two years ago.