British Superbikes: Seeley first in Supersport race but Irwin takes 'win'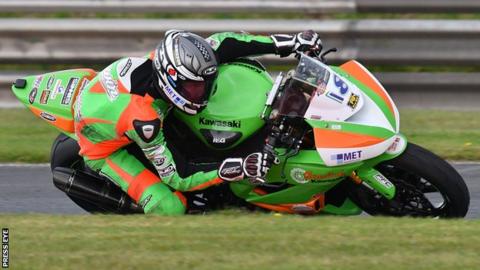 Alastair Seeley finished first in the Supersport race at Sunday's British Superbike meeting although the official result showed his fellow Northern Irishman Andrew Irwin as the winner.
Seeley is unable to score series points on his Spirit Moto2 machine so Irwin took the winner's 25 points for his first victory in the Supersport series.
Dubliner Jack Kennedy was third across the line with David Allingham seventh.
Kennedy felt Irwin passed him as a yellow flag was in operation late on.
"In my eyes, I sat back on the rest of the final lap after he passed me and I was totally expecting to be given the win," said an unhappy Kennedy.
"As far as I was concerned, he had definitely passed me when they yellow flag was being flown but they are now saying that the yellow flag had been taken down.
"But at those speeds, how are you supposed to see things like that."
Irwin euphoric after 'ending long wait'
In contrast, Irwin was euphoric at his performance as he spoke of ending a long wait for a "win in the series".
"This has been a long time in coming and I want to thank everybody including my family and sponsors for supporting me," said Carrickfergus man Irwin, whose brother Glenn, missed the Snetterton superbike round because of injury.
Clogher man Keith Farmer looked set to clinch his second successive weekend double in the Supersport series after winning Saturday's sprint race but slid off while leading with four laps remaining.
Eglinton rider Allingham, meanwhile, recovered from a dreadful start as he dropped to last place after going wide on the first corner to cross the line seventh.
The Londonderry rider's battling performance moved him level with Farmer into second place in the championship standings, with both now only five points behind series leader Tarran MacKenzie, who missed the Snetterton round because of injury.
Irwin is now only 10 points behind McKenzie with Kennedy a further 25 points off the pace in fifth place in the standings.
Farmer finished ahead of Seeley, Kennedy and Allingham in Saturday's 10-lap sprint event.
In the opening Superbike race won by Shane Byrne, Michael Laverty was the best of the Northern Ireland finishers in 12th spot.
Josh Elliott picked up one championship point for his 15th place on his Tyco bike while Andy Reid was 17th.
In race two, Laverty was the only Northern Ireland rider in the points as he took 15th after an early mishap with Reid in 18th place.
Reid has been called up to replace Davide Giugliano in the Tyco BMW team for the remainder of the season, while Elliott stood in for the injured Christian Iddon at Snetterton.
The two Superbike races had exactly the same podium positions with Byrne finishing ahead of Australian duo Josh Brookes and Jason O'Halloran.
After missing out on the Snetterton round, Glenn Irwin is now ninth in the championship with Laverty in 15th spot.