British Supersport Championship: Keith Farmer extends series lead to 26 points
Last updated on .From the section Northern Ireland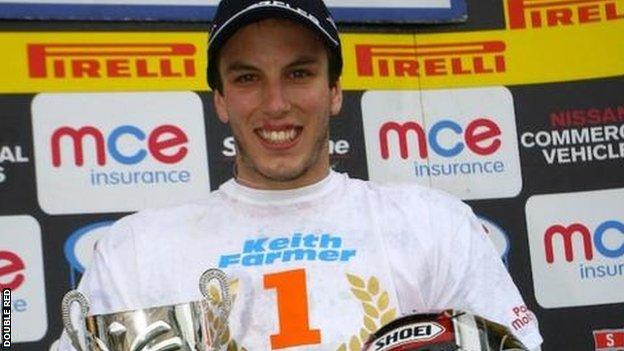 Keith Farmer extended his lead in the British Supersport Championship to 26 points after taking a runners-up spot at Brands Hatch on Sunday.
Clogher man Farmer finished behind Dubliner Jack Kennedy in Sunday's race after winning Saturday's sprint event.
Kennedy was clinching his second straight win after his runner-up spot at Snetterton was upgraded to a victory ahead of Andrew Irwin.
Irwin was ruled to have passed Kennedy late on in a yellow flag situation.
Luke Stapleford and Alastair Seeley were the first two riders across in the line in Sunday's race at Brands Hatch but neither can score points in the championships because of the make-up of their bikes.
Irwin was fifth across the line to take the points for third place as he was just 0.049 behind Farmer.
Kennedy's win puts him 33 points behind series leader Farmer with Eglinton rider David Allingham now fourth in the championship.
In Sunday's Superbike races, Irwin's brother Glenn clinched 16th and 14th places as Shane Byrne achieved a second successive race double.
Michael Laverty earned points with 13th and ninth places while Andy Reid finished 19th and 18th on his second Tyco BMW outing in the series.