Armoy Road Races: Michael Dunlop clinches hat-trick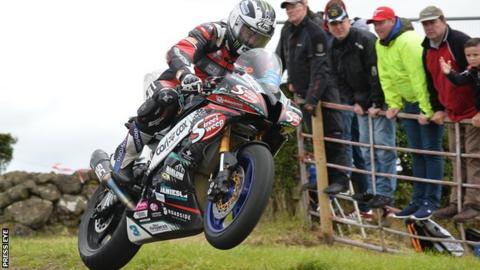 Michael Dunlop secured three wins at the Armoy Road Races in County Antrim, while Derek McGee bagged a double.
Dunlop won the feature Race of Legends for the seventh year in a row, and also won the Open and Supersport events.
The Ballymoney man, riding his Bennetts Suzuki, had over 12 seconds to spare in the main event with brother William second and Michael Sweeney in third.
McGee, declared winner of Friday's reduced Supersport race, completed a double with a Supertwins victory.
Dunlop finished 3.30 seconds ahead of McGee in Saturday's Supersport race and it was the same one-two in the Superbike Open class.
Dunlop came in 4.68 seconds ahead of McGee in the Superbike event, with Davey Todd third.
Mullingar rider McGee also battled with Dunlop in Friday's race before the 15-time TT winner's retirement.
With oil appearing to drop on the circuit after Dunlop's exit, the race was halted and the official results gave McGee a 0.77-second victory over Todd with Christian Elkin in third.
McGee won the Supertwins race on Saturday by a margin of 0.88 seconds from James Cowton with Adam McLean third.
Cowton completed the podium positions in Saturday's Supersport race as he finished five seconds behind runner-up McGee.
Elkin won Saturday's 125/Moto3 race as he finished 15.32 seconds ahead of McLean with Paul Robinson a further 5.74 seconds back in third.