Derek McGee to ride Supertwin for KMR Kawasaki team in 2018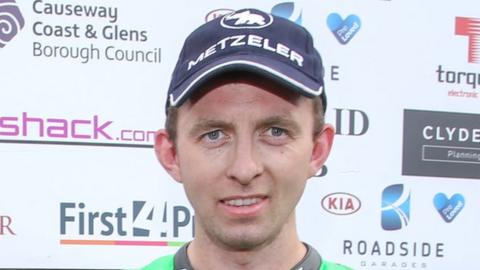 Mullingar man Derek McGee will ride a Supertwin for Ryan Farquhar's KMR Kawasaki team at the international and Irish national road races in 2018.
McGee won the 2017 Superbike, Supersport and Supertwins Irish titles.
He will campaign the bike at the North West 200 and Ulster Grand Prix and will also make his return to the Isle of Man TT after missing this year's event.
The 31-year-old won the Supertwins class at the Ulster GP in 2015 and was best IOM TT newcomer the same year.
"Having competed against Derek, I know all too well what he's capable of and I'm really looking forward to working with him in 2018," said Farquhar.
"I'll be assisting Derek at all of the International road races whilst he'll have the use of the bike for whichever Irish National road races he wishes to compete in so it's an agreement that suits all parties.
"He has a very good team behind him and I'm confident that he'll be challenging for podiums at the internationals and wins back home."
McGee commented: "I'm delighted to get the opportunity to ride one of Ryan's bikes as he puts the best ones out there on the grid so I'll be looking to push on in 2018 especially at the Internationals.
"Having missed the North West 200 and TT this year, I'm really looking forward to getting back to those meetings and will be putting a lot of effort into them with a view to getting on the podium like I've previously done at the Ulster GP."