Northern Ireland face tough Gold Coast challenge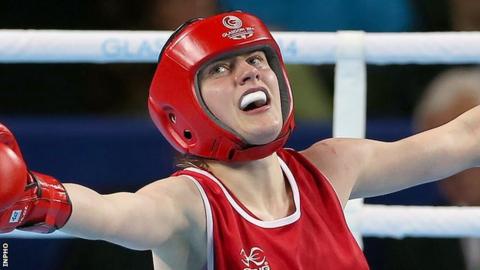 There were few surprises in the Northern Ireland team that will head to Gold Coast in April for the fifth Commonwealth Games to be held in Australia.
The Northern Ireland Commonwealth Games Council, in conjunction with Sport NI and the sports governing bodies, has run the selection process for the past two years and it has gone reasonably smoothly.
There will be those left disappointed, most notably athletes Amy Foster and Kerry O'Flaherty who failed to make the squad of 11 nominated by Athletics Northern Ireland, after these places were allocated to them by the Games Council.
After winning 10 medals in Delhi in 2010 and 12 four years ago in Glasgow, there will be pressure to come close to matching those figures, although that is probably unrealistic.
There is no official medal target for the 88-strong team to chase and, while expectations will fall on the shoulders of boxing, bowling and shooting to produce the goods, as it always does, the hope is that there will be stronger performances across the 13 sports.
How that reflects in medals it is difficult to predict - four to six should be considered a good return - the increase in top eight finishes, finalists and personal bests will be a stronger barometer of the achievement of the team.
Under the guidance of John Conlan the 13-strong boxing squad (nine men and four women) carry the weight of a nation on their shoulders. Three gold and two silver medals in Delhi and three gold, two silver and five bronze in Glasgow saw Northern Ireland literally punch above their weight.
So, whether they like it or not, they will be expected to produce strong performances despite missing Paddy Barnes and Michael Conlan who have now turned professional.
Steven Donnelly, Michaela Walsh and Alanna Nihell all won medals at Glasgow four years ago and are perfectly capable of doing so again while Brendan Irvine, James McGivern and Kurt Walker represent the next generation of local fighters looking to make their mark on the international scene and where better to start than at Gold Coast.
David Calvert continues to defy time and will take part in shooting at his 11th Games and it would be no surprise to see him add to his tally of four gold and four bronze medals while multiple Commonwealth medallist Neil Booth coaches a strong men's bowling team.
There are future sporting starts to look out for too, all with aspirations of competing at the Olympics in Tokyo in 2020.
Conor Ferguson leads a developing swimming team and is one of the top prospects, while in gymnastics Rhys McClenaghan is pushing Olympic champion Max Whitlock at national level on the pommel horse supported by Ewan McAteer who is excelling on the vault.
Cyclists Mark Downey and Lydia Boylan have World Cup and European Championship medals tucked away from 2017 and on their day are a match for anyone in the Commonwealth while the women's netball team (seventh in Glasgow) are buoyed by their recent silver medal at the European Championships.
Led by European medallist Ciara Mageean, the 11 athletes should all be battling hard for final appearances.
Three para-athletes have also been included in the travelling party.
Wheelchair athlete Jack Agnew has been selected along with swimmer Barry McClements and triathlete David Kerr.
All in all, it's a smaller team but with greater depth and that should lead to fewer stories about 'making up the numbers' and more on some notable achievements.
The last time the Games were held in Australia was 12 years ago in Melbourne where Northern Ireland returned home with just two silver medals.
There should be more bling and plenty of other performances to celebrate this time.