BBC Sport - 'It's the second time I've had my leg lengthened' - Hutchinson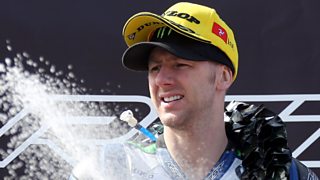 'It's the second time I've had my leg lengthened' - Hutchinson
Ian Hutchinson says he is hopeful of riding at the 2018 North West 200 despite having his ankle removed and leg lengthened after a crash in the Senior TT race on the Isle of Man last June.
Hutchinson had to endure more than 30 operations on his left leg after an accident at Silverstone in 2010 and after a five-year absence returned to win eight TT races in the last three years.
The Yorkshireman is still wearing a cage on his damaged leg, but is hopeful of returning to action by the end of April.