BBC Sport - Irwin and Seeley recall 2017 NW200 battle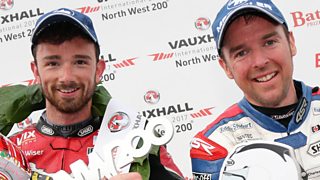 Irwin and Seeley recall 2017 NW200 battle
Glenn Irwin and Alastair Seeley hope to reignite their rivalry at the North West 200 after a thrilling battle during the 2017 feature Superbike race.
The Carrickfergus duo swapped positions several times throughout an exhilirating race, which included Seeley clipping the grass at 175mph on the final lap.
He recovered to challenge Irwin for the win, but the Be Wiser Ducati rider took the victory with a move on the approach to Juniper Chicane.