North West 200: Kiwi Mettam following in compatriot Anstey's tyre tracks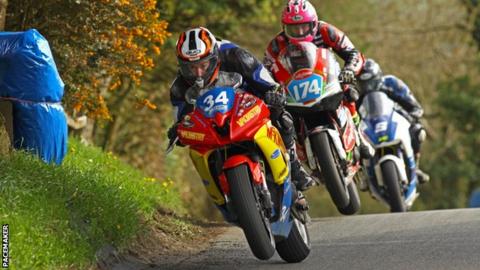 North West 200 international road races
Dates: Tuesday 15 May-Saturday 19 May Venue: Triangle circuit, Portstewart, Coleraine, Portrush
Coverage: All practices and races live on the BBC sport website and BBC Radio Ulster; Highlights on BBC One NI Friday 18 May, Sunday 20 May and Monday 21 May
Daniel Mettam is following in the tyre tracks of fellow New Zealander Bruce Anstey by competing in the North West 200 for the first time.
Anstey is a 10-time winner over the Triangle circuit but misses this year's event for the first time since 2001 as he undergoes treatment for cancer.
"I've followed Bruce's career and watched a lot of his races over the years," said 21-year-old Mettam.
"He is someone I've always looked up to and regarded as an inspiration."
It was revealed in April that 49-year-old Anstey had several cancerous tumours in his lungs and on his spine, as well as a blood clot on his lungs.
Anstey marked his debut year at the North West by becoming one of an elite band of 26 riders to taste victory at the event as a newcomer in 2002.
The Wellington rider went on to record podium finishes every year until 2015 and has also chalked up 12 Isle of Man TT wins and 13 successes at the Ulster Grand Prix in an illustrious career to date.
He was appointed a Member of the New Zealand Order of Merit for services to motorsport in 2015.
"Bruce is a bit of a hero of mine and everyone is aware of his situation back home.
"He's highly thought of us a road racer and if I was able to emulate even some of the feats he has achieved I would be well pleased," added Mettam.
The young Kiwi began riding dirt bikes when he was just four years old, before taking up motocross at the age of six and then switching to street racing when he was 14.
Despite his tender years, the Auckland native is a former 600cc New Zealand champion and further underlined his potential by recently finishing third in the New Zealand Superbike Championship.
"I have come over from New Zealand to take in the whole road racing season, including the North West 200 and Ulster Grand Prix, and already it's been a bit of an eye opener.
"I managed to win the Supersport B race at the Cookstown 100 but was unable to race at Tandragee as I had a bit of an off in practice and chipped a bone in my wrist.
"The road races here are very different to the street circuits back home but I've adapted fairly quickly and am having a good time. The North West course is super-fast and every class is very competitive."
New Zealand riders Stu Avant, the late Robert Holden and Anstey are the only three riders from outside the United Kingdom and Ireland to win races at the North West but Mettam is not getting carried away and is just keen to enjoy himself on his maiden appearance over the nine-mile course.
"I have some personal targets in my head but won't be putting any pressure on myself," added Mettam.
"I've been fortunate to have received sponsorship from a well respected local team in McKinstry Racing and am getting used to riding Supersport and Supertwin bikes as I am used to riding a Superbike at home."
Mettam's career highlight so far came in February when he won the Superbike race at Paeroa.
Throughout this summer he will be living on the Dundrod circuit, on which he plans to race during Ulster Grand Prix Bike Week in August."
North West 200 practice and race schedule
Thursday 17 May - 09:15 BST to 15:00 BST - Roads closed for practices
Thursday 17 May - 17:00 BST to 21:00 BST - Roads closed for racing
Race 1 - Supersport Race 1 - 6 laps
Race 2 - Superstock Race 1 - 6 laps
Race 3 - Supertwin Race 1 - 4 laps
Saturday 19 May - 09:15 to 19:00 BST - Roads closed for racing
Race 1 - Supersport Race 1 - 6 laps
Race 2 - Superbike Race 1 - 7 laps
Race 3 - Supertwin Race 1 - 4 laps
Race 4 - Superstock Race 2 - 6 laps
Race 5 - NW200 Superbike Race 2 - 7 laps