North West 200: Alastair Seeley extends victory record with Supersport win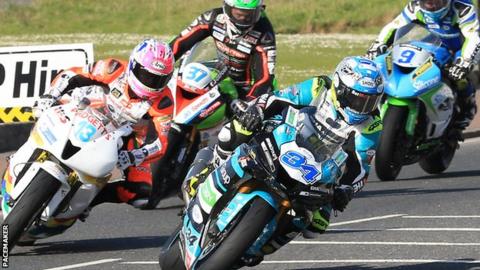 North West 200 international road races
Dates: Tuesday 15 May-Saturday 19 May Venue: Triangle circuit, Portstewart, Coleraine, Portrush
Coverage: All practices and races live on the BBC sport website and BBC Radio Ulster; Highlights on BBC One NI Friday 18 May, Sunday 20 May and Monday 21 May
Alastair Seeley took his record tally of North West 200 wins to 22 with a Supersport victory while Peter Hickman and Martin Jessopp also enjoyed wins.
Carrickfergus rider Seeley secured a Supersport win for the ninth straight year as he came in ahead of James Hillier and Lee Johnston.
Seeley was edged into second in the Superstock race by Hickman, who clinched his first NW200 success.
Jessopp won the Supertwins race from Jeremy McWilliams and Joey Thompson.
It was a sun-kissed evening on the north coast for the opening three races of the 2018 meeting, with five more races on Saturday.
Seeley powered away on his EHA Yamaha on the final lap to win the Supersport race by 2.447 seconds - the 'Wee Wizard' has now won at least one NW200 race for an 11th year in a row.
"That was a nice one - I was comfortable on the bike and I bided my time," said the 38-year-old.
"On the last lap I knew I needed to make a break and on the coast road I put the foot down."
Seeley came so close to clinching a Thursday night double as he led the Superstock race on the final lap.
Hickman kept on his tail before producing a thrilling late move to clinch his maiden victory by 0.578 seconds over Seeley while Michael Dunlop claimed the final podium spot.
"Finally something has gone right for once. I waited to the last corner and did him (Alastair Seeley) at a place where he couldn't get back," said the Lincolnshire man.
"I knew I was fast and I wasn't going to get that far and not win it."
It was a mixed night for Somerset rider Jessopp - he led the Supersport race before crashing out on the opening lap and then triumphed in the Supertwins.
Jessopp followed up last year's NW200 double by passing long-time leader Joey Thompson to take the chequered flag.
Thompson had to settle for third place as Glengormley's Jeremy McWilliams, a 2013 and 2015 Supertwins winner, pushed through on the last lap to finish second.
"I'm over the moon - the night didn't start too well but we've ended it well and that's what counts," said Jessopp.
Supersport (1)
1. Alastair Seeley
Yamaha
115.535mph
2. James Hillier
Kawasaki
115.367
3. Lee Johnston
Honda
115.303
4. Dean Harrison
Kawasaki
115.292
5. Gary Johnson
Triumph
114.710
6. Conor Cummins
Honda
114.120
Superstock (1)
1. Peter Hickman
BMW
121.302
2. Alastair Seeley
BMW
121.258
3. Michael Dunlop
BMW
121.214
4. Michael Rutter
BMW
121.137
5. James Hillier
Kawasaki
120.077
6. Dean Harrison
Kawasaki
120.049
Supertwins (1)
1. Martin Jessopp
Kawasaki
108.233
2. Jeremy McWilliams
Kawasaki
108.064
3. Joey Thomspon
Paton
108.043
4. Adam McLean
Kawasaki
108.021
5. James Cowton
Kawasaki
108.001
6. Christian Elkin
Kawasaki
107.117