Ireland announce squad for World Cup warm-up series
Last updated on .From the section Northern Ireland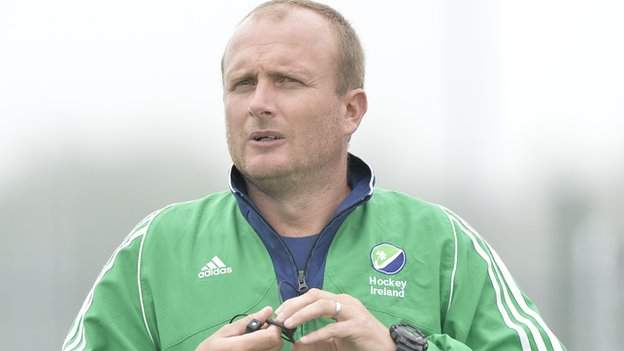 Ireland women's hockey coach Graham Shaw has named six Ulster players in his squad for the upcoming World Cup warm-up series with Scotland.
Ayeisha McFerran, Shirley McCay, Zoe Wilson, Lizzie Colvin, Katie Mullan and Leah McGuire are included in the panel of 24 for the three matches in Glasgow.
Nikki Evans and Megan Frazer miss the trip to complete their domestic season with their clubs in Germany.
Shaw must cut his squad to 18 for the World Cup, which starts on 21 July.
Taking place in London, Ireland face USA, India and hosts England in the pool stages.
The fixtures for the three-match series in Scotland will be played at Glasgow National Hockey Centre on 31 May (7pm), 2 June (3pm) and 3 June (11am).
The series was originally scheduled for earlier in the year but heavy snow prevented the squad from travelling.
"This series marks the start of an intense match period for us as a squad," said Shaw.
"We have 16 matches prior to the World Cup. We are excited to begin this phase and spend as much time as possible together as group.
"Scotland are a strong side so this will be a good test for the team before we fly to London on 6 June to play England."
The Ireland squad in full is:
Ayeisha McFerran, Emma Buckley, Shirley McCay, Yvonne O Byrne, Hannah Mathews, Lena Tice, Cliodhna Sargent, Zoe Wilson, Gillian Pinder, Lizzie Colvin, Katie Mullan, Nicci Daly, Ali Meeke, Roisin Upton, Leah McGuire, Chloe Watkins, Ann O Flanagan, Rebecca Barry, Ellen Curran, Deirdre Duke, Naomi Carroll, Sarah Torrans, Aisling Naughton and Emily Beatty.