Isle of Man TT: Dean Harrison fastest in first Superbike practice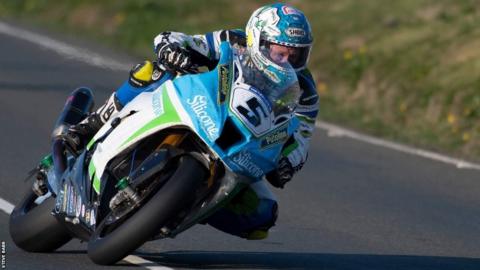 Dean Harrison set the fastest speed in the first Superbike practice session at the Isle of Man TT on Monday night.
The Kawasaki rider recorded a best lap of 131.376mph, with Tyco BMW's Michael Dunlop second quickest on 131.087.
Peter Hickman made the best of the fine conditions to top the Superstock times at 130.219, followed by Manxman Conor Cummins with 129.584.
Ivan Lintin set the fastest Supersport mark on Monday but his time left him sixth quickest after Saturday's times.
After a 20-minute delay to the start of the session for a spectator on the course at Crosby after the roads had closed, Harrison was fastest out of the blocks, breaking the 131mph barrier on his first flying lap.
The Bradford rider improved his speed, with 15-time winner Dunlop joining Harrison in the 131mph mark on his final lap of the session, the pair setting the six fastest laps between them.
BMW machinery filled the next three spots through Hickman, Dan Kneen and Australian David Johnson.
Norton's Josh Brookes pulled off near the end of the session at Sulby Bridge, with Ian Hutchinson's steady recovery from injury continuing with a lap of 125.061.
Hutchinson, continuing his return to action after serious leg injuries sustained in last year's senior race, was ninth with his Honda Racing team-mate Lee Johnston slightly slower with 125.619.
Fermanagh pilot Johnston was having his first TT outing on the Honda Fireblade, having earned third and fourth-place finishes on the 'big bikes' at the North West 200 earlier this month.
Hickman set the fastest Superstock time on his final lap of the open session, eclipsing long-time leader Cummins with a 130.219mph lap.
Kneen was third fastest with a best lap of 128.843, with Johnson and Harrison also over the 128mph mark.
Lintin's leading Supersport time of 123.563 was slower than Saturday's opening session, some way short of Harrison's best speed of the week in that class - 124.587.
Practice continues each night this week, with the Superbike race and the opening Sidecar event scheduled to take place on Saturday.
Superbike
1. Dean Harrison (ENG)
Kawasaki
131.376 mph
2. Michael Dunlop (NIR)
BMW
131.087
3. Peter Hickman (ENG)
BMW
129.000
4. Dan Kneen (IOM)
BMW
128.788
5. David Johnson (AUS)
BMW
127.686
6. James Hillier (ENG)
Kawasaki
127.300
Superstock
1. Peter Hickman (ENG)
BMW
130.219 mph
2. Conor Cummins (IOM)
Honda
129.584
3. Dan Kneen (IOM)
BMW
128.843
4. David Johnson (AUS)
BMW
128.139
5. Dean Harrison (ENG)
Kawasaki
128.134
6. Michael Dunlop (NIR)
BMW
127.002
Supersports
1. Dean Harrison (ENG)
Kawasaki
125.797mph
2. Michael Dunlop (NIR)
Honda
125.741
3. Conor Cummins (IOM)
Honda
125.152
4. Dan Kneen (IOM)
Honda
124.703
5. Peter Hickman (ENG)
Triumph
124.447
6. Ivan Lintin (ENG)
Kawasaki
123.563
Lightweight Supertwins
1. Michael Dunlop (NIR)
Paton
120.875mph
2. Ivan Lintin (ENG)
Kawasaki
120.660
3. Derek McGee (ROI)
Kawasaki
117.571
4. Peter Hickman (ENG)
Kawasaki
117.508
5. Stefano Bonetti (ITA)
Paton
117.119
6. David Johnson (AUS)
Kawasaki
117.029