Isle of Man TT: Harrison continues impressive form in Superbike practice
Last updated on .From the section Northern Ireland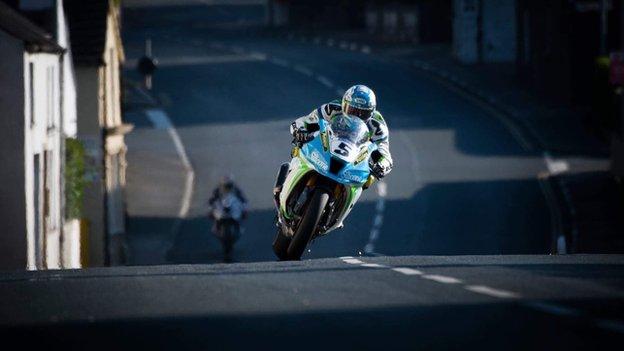 Dean Harrison continued his impressive form in practice for the Isle of Man TT by setting the fastest time in the second Superbike session of the week.
Harrison produced a scintillating sub-17 minute speed of 133.462mph on his second lap on Tuesday night.
That was inside Michael Dunlop's lap record for the class, 133.393, but is unofficial because it was set in practice rather than racing.
Dunlop was close behind in second at 132.319 on his Tyco BMW.
Dunlop is the only rider ever to register a sub-17 minute lap in a race but Harrison's lap of 16 minutes 57.728 seconds in Tuesday's practice saw him unofficially dip under the 17 minute barrier.
The Ballymoney rider holds the absolute record for the Mountain Course at 133.962, set in the 2016 Senior race.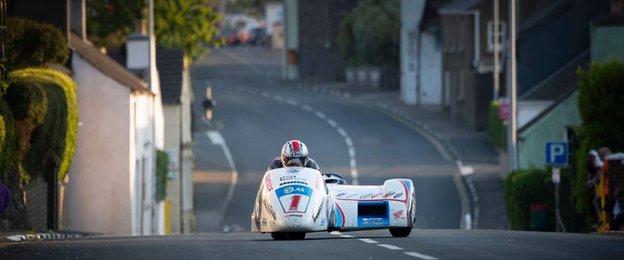 Harrison negotiated the 37.73-mile course at 133.140 on his opening circuit from a standing start, but bettered that on his subsequent 'flying' lap.
Manxman Dan Kneen recorded his fastest ever lap of the circuit to take third on the practice leaderboard at 132.258, with fellow BMW pilot Peter Hickman fourth with 132.169.
In perfect conditions, Lincolnshire rider Hickman led the Superstock speeds with a scorching lap of 130.619mph, marginally faster than Harrison on 130.553.
Kneen was next at 129.140, followed by Honda-mounted Lee Johnston, who lapped at 128.288.
Dunlop was best of the Supersports in Tuesday's practice on 125.206, slower than Harrison's best of the week from Saturday night - 125.797.
Ivan Lintin led the Lightweight Supertwins with 119.191 on his Kawasaki, with Italian Stefano Bonetti in second at 118.848.
Dunlop retains the fastest speed of the week in that class with his unofficial lap record of 120.875, set on Saturday night.
John Holden and Lee Cain set the fastest sidecar time of the week on Tuesday night, putting in a lap of 115.732, followed by brothers Ben and Tom Birchall (115.145) and Alan Founds and Jake Lowt (113.037).
Practicing continues each night this week, with the first race of the meeting, the six-lap Superbike, due off at 12:00 BST on Saturday.
Superbikes

1. Dean Harrison (ENG)

Kawasaki

131.462 mph

2. Michael Dunlop (NIR)

BMW

132.319

3. Dan Kneen (IOM)

BMW

132.258

4. Peter Hickman (ENG)

BMW

132.169

5. Conor Cummins (IOM)

Honda

129.756

6. Michael Rutter (ENG)

BMW

129.585
Superstocks

1. Peter Hickman (ENG)

BMW

130.619 mph

2. Dean Harrison (ENG)

Kawasaki

130.553

3. Conor Cummins (IOM)

Honda

129.584

4. Dan Kneen (IOM)

BMW

129.140

5. Lee Johnston (NI)

Honda

128.288

6. David Johnson (AUS)

BMW

128.139
Supersports

1. Dean Harrison (ENG)

Kawasaki

125.797mph

2. Michael Dunlop (NI)

Honda

125.741

3. Conor Cummins (IOM)

Honda

125.152

4. James Hillier (ENG)

Kawasaki

124.919

5. Dan Kneen (IOM)

Honda

124.703

6. Peter Hickman (ENG)

Triumph

124.447
Supertwins

1. Michael Dunlop (NIR)

Paton

120.875mph

2. Ivan Lintin (ENG)

Kawasaki

120.660

3. Stefano Bonetti (ITA)

Paton

118.848

4. Derek McGee (ROI)

Kawasaki

117.571

5. Peter Hickman (ENG)

Kawasaki

117.508

6. David Johnson (AUS)

Kawasaki

117.029