Kildare-Mayo clash should be at Newbridge: O'Rourke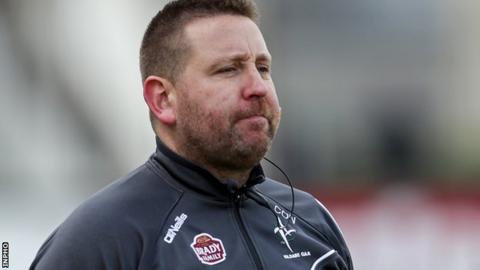 Two-time All-Ireland winner Colm O'Rourke believes Kildare should not lose home advantage for Saturday's qualifier against Mayo.
The game has been scheduled for Croke Park, with the GAA citing health and safety concerns as the reason for the decision.
But The Lilywhites have insisted they will only play the match at their home ground in Newbridge.
The GAA said the game would be awarded to Mayo if Kildare did not show up.
"The GAA has the might, but might is not right," O'Rourke told the BBC.
Kildare manager Cian O'Neill has said his side plan to turn up at St. Conleth's Park in Newbridge on Saturday ready to play the match, but won't go to Croke Park to play it.
Simple matter
Speaking on BBC Radio Ulster's Evening Extra programme, former Meath star O'Rourke said:
"Someone is going to have to back down quickly and the GAA say they won't because they are printing the tickets.
"All the rights seem to be in Kildare's favour in this case.
"They were drawn out first and if there has to be a limit placed on the crowd then so be it.
"Kildare travelled to both Longford and Derry to fulfil their fixtures and I think if they are drawn out first it is a simple matter - the game should be at Newbridge."
Kildare had indicated that they would hold a press conference in relation to the decision at 5pm on Tuesday, but that was cancelled due to manager O'Neill's work commitments.
The Kildare-Mayo tie (19:00 BST) was announced on Monday as part of a Croke Park double bill alongside Cavan-Tyrone (17:00) and, if the impasse is not resolved, it may have an impact on this fixture also.