William Dunlop: Rider's family releases statement of thanks
Last updated on .From the section Northern Ireland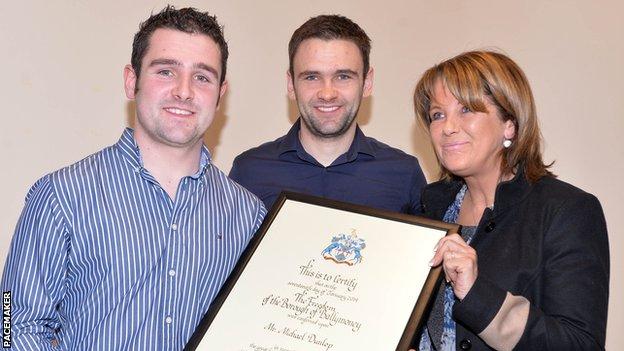 William Dunlop's mother, Louise, has expressed gratitude for the messages of sympathy and support the family has received since her son's tragic death.
William was killed in a crash during a practice session at the Skerries 100 in Dublin earlier this month and his funeral was held near his hometown of Ballymoney last Wednesday.
The 32-year-old rider was a winner at the North West 200 and Ulster GP.
"I appreciate your kind thoughts more than I can say," said Mrs Dunlop.
In a heartfelt statement, Mrs Dunlop also thanked her other sons, Daniel and Michael, for "their strength and the devoted love they have shown to their mother."
She thanked the family's neighbours and friends, the funeral celebrants, Rev John Kirkpatrick and Rev Kenny Henderson, as well as the many volunteers, sponsors and supporters for their well-wishes over the past two weeks.
"I thank you all sincerely for your sympathy shown for my son William and I am sorry that many of you hadn't time to grieve or get to say your goodbyes," the statement began.
"I would like to thank everyone in our time of sorrow for their prayers, flowers, cards, messages, refreshments and donations you so kindly sent.
"We are greatly appreciative of all your help throughout those final few days with William and we will thank everyone personally."
William's father Robert died in a crash during practice for the North West 200 in 2008, and his uncle Joey Dunlop was killed at a race in Estonia in 2000.
His decision to compete at the Skerries 100 had come just weeks after he had withdrawn from the Isle of Man TT to be with his pregnant partner Janine.
He had revealed that there had been some concerns about the pregnancy at the time, but the situation had subsequently improved and the couple were looking forward to the arrival of their second child.
"A sincere thank you to William's partner Janine and the lovely Brolly family for their loving support and to William and Janine's daughter Ella for her little hugs, and special thanks to my own mother and family for their great support," added Mrs Dunlop.
"If I have sadly overlooked anyone, it wasn't intentional as there were so many of you who made the sad occasion pass much smoother for us."