Club cricket results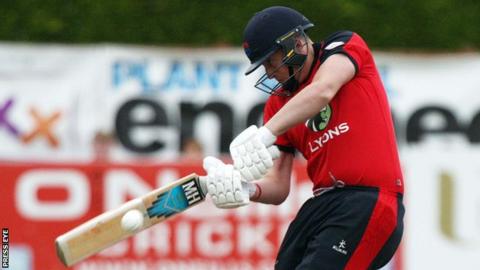 Holders Waringstown advanced to the Irish Senior Cup semi-finals thanks to a 221-run opening partnership between James Hall and Adam Dennison.
Hall was undefeated on 175, which included nine sixes and 14 boundaries, in a 133-run success over Pembroke.
The defending champions are the only Northern Cricket Union representatives through to the last four.
They are joined by North-West's Strabane as well as Clontarf and Merrion of Leinster.
Pembroke v Waringstown
Waringstown 358-2: J Hall 175 no, A Dennison 105
Pembroke 225 (46.3 overs): L Tucker 71, G Kidd 4-23
Waringstown won by 133 runs
Phoenix v Strabane
Phoenix 180
Strabane 181-4
Strabane won by six wickets
Clontarf v CSNI
CSNI 165: M Topping 47, A Cowden 44
Clontarf 165-3: A Poynter 53 no
Clontarf won by seven wickets
Leinster v Merrion
Merrion 335-5: J Anderson 140
Leinster 219: G Dockrell 74
Merrion won by 116 runs
In the Robinson Services Premier League, there was a vital win for Instonians after three losses.
They are now joint fourth from bottom along with Muckamore and Carrickfergus with North Down, CSNI and Armagh all below them.
Armagh v Instonians
Instonians 280: J McClurkin 109 (58 balls)
Armagh 139
Instonians won by 141 runs
Brigade had been having a disappointing season by their standards but a resounding League victory over Donemana yesterday followed by the North-West Senior Twenty/20 trophy boosted their confidence before the Senior Cup final against Eglinton on Friday.
Bready v Brigade
Bready 139 (19.1 overs): R Barr 49, A Austin 37, M Simpson 4-22
Brigade 145-5 (19.2 overs) I Hussain 42, D Barr 35
Brigade won by five wickets