William Dunlop: Partner pays tribute to road racing star
Last updated on .From the section Northern Ireland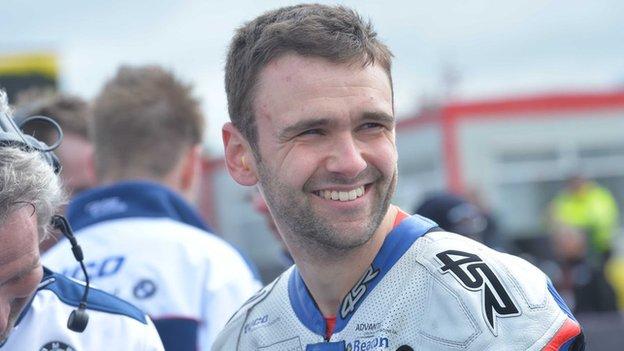 The grieving partner of William Dunlop has said she would give anything for one more day with him in a heartfelt tribute to the late road racing star.
The 32-year-old was killed in a crash during a practice session at the Skerries 100 in Dublin on 7 July.
In a statement issued on William's official website, Janine Brolly thanked family, friends, fans and sponsors for the support she had received.
"I miss him more than words can possibly say," she said.
Thousands of people attended William's funeral at Garryduff Presbyterian Church near his hometown of Ballymoney.
Janine is mother to William's two-year-old daughter, Ella, and is expecting their second child.
"Our family was our complete universe - our own little bubble and I am struggling to let go of that," she said.
"I think that is why for the days since I found out I have just wanted to hide. Speaking about it would make everything a reality and I'm just not ready to allow that to fully happen yet.
"I just wanted you to know that I have read the messages of support and condolence and I am so, so grateful for them.
"Everyone who has sent cards, posted their memories and images and shared how they felt that they knew William have been such a comfort, please know how much I truly treasure them."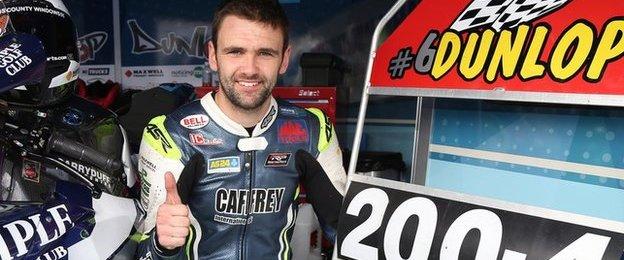 William's father Robert died in a crash during practice for the North West 200 in 2008, and his uncle Joey Dunlop was killed at a race in Estonia in 2000.
His decision to compete at the Skerries 100 had come just weeks after he had withdrawn from the Isle of Man TT to be with his pregnant partner.
"On the Friday when Ella and I waved William off in his van for the weekend he had the biggest smile on his face, he was genuinely looking forward to heading away for a couple of days racing," said Janine of the last time she saw William.
"No pressure, no worries, just go and enjoy himself - that is the precious last memory I have of Will leaving our home. We felt as if we had weathered the worst of the storm for this year.
"Our luck was changing and plans were being made for the coming exciting months as we prepared for life as a family of four.
"The anxiety that usually appeared when he left for a race weekend wasn't there this time, in fact, when I got news that there may be some kind of problem, the thought that this could be concern over William didn't even initially enter my head.
"The words that followed in the next few minutes didn't register, to be truthful, I'm not sure if they do now. We were so happy; this isn't how it was supposed to go."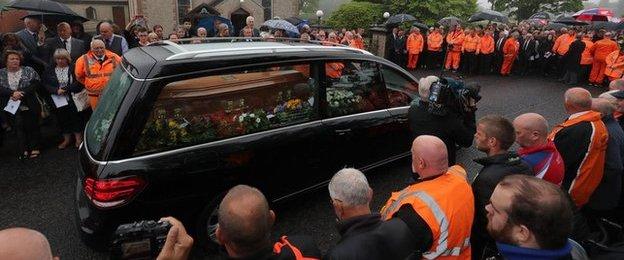 Janine spoke of William's joy at becoming a father, saying she could see how much he loved Ella from the day she was born.
"[For the] past couple of years I could clearly see how something had shifted for him," she continued.
"The day that Ella was born I looked at him when they placed her in his arms and I watched him fall in love. That will always be my most treasured memory.
"I don't think he could believe that surge of love himself.
"William never let me down, he stepped up and looked after us so incredibly well - I knew that he would always put his family first, and in turn, William knew how much we absolutely adored him."
While acknowledging that praise made William feel uncomfortable, Janine said he would have been proud to know how much he is thought of, adding "somewhere he is smiling to himself".
"One day I will be able to share the incredible memories and achievements with both our children.
"They will always know how special Daddy was and how much he loves them - William was a tremendous sportsman, but where he really shone brightest was as a father. I promise that they will always know that.
"I miss him more than words can possibly say, but am so thankful I will always have part of William with me, forever.
"I would give anything for one more day."