Ulster Grand Prix: Veteran Ian Lougher to return to Dundrod races
Last updated on .From the section Northern Ireland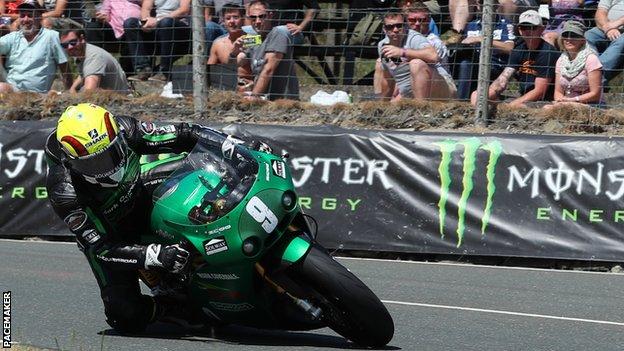 Veteran racer Ian Lougher has announced he is to compete at the Ulster Grand Prix for the first time in five years.
The 55-year-old Welsh man, who runs his own ILR team, will be partnered by Joey Thompson, 20, from Yorkshire for the races at Dundrod on 9 and 11 August.
Both competed for ILR at this year's TT Races on the Isle of Man.
Lougher is second on the list of all-time Ulster GP races winners with 18 victories, six behind record holder, the late Joey Dunlop.
He has won 10 times at the TT and on eight occasions at the North West 200.
Lougher's first Ulster success was in 1998 and he claimed three victories at the UGP meetings in 2002 and 2005.
On his last Dundrod appearance in 2013, Northern Ireland-based Lougher won the Ultra-Lightweight class.
He retired from full-time racing soon after that, but has competed at selected races.
Thompson will be making his second appearance at the Ulster, having been named best newcomer after his debut last year when he won the Dundrod 150 race.
Four Ulster GP races will be staged on the evening of Thursday, 9 August with seven taking place on the Saturday.