Ulster Grand Prix: David Johnson handed Tyco BMW ride for Dundrod meeting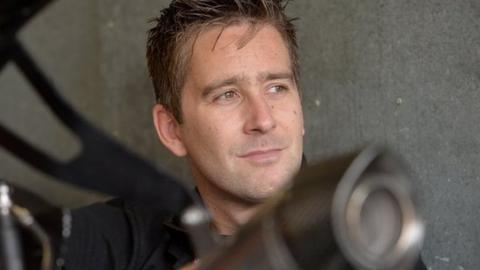 Australian David Johnson will ride for the Tyco BMW team at the Ulster Grand Prix as he aims for a first-ever podium at the Dundrod event next week.
The Adelaide racer will campaign the exotic 215bhp HP4 machine, the first motorcycle to feature a carbon frame.
Johnson competed at the North West 200 and Isle of Man TT for the Gulf BMW outfit, achieving fourth-places in the Superbike and Superstock TT races.
The 34-year-old is aiming to secure a first-ever podium at the Ulster GP.
"The Ulster is one of my favourite tracks so it's great to have this opportunity with Tyco," said Johnson.
"The team know what they're doing and are proven winners around here, and with the HP4 to race I'll also have the machinery to challenge for sure.
"The bikes will be amazing so it's all down to me. I've been on BMWs all year and was riding them at Dundrod in 2017 too, so I'm feeling good and should be up to speed right away."
Johnson earned his best result at the Ulster GP last year by finishing fourth in the Superstock race, just 12 months after sustaining extensive injuries in a practice crash.
He suffered a broken left shoulder, broken knee, four broken ribs, a collapsed lung and a fractured vertebra after crashing on his Wilson Craig Honda.
Ulster Grand Prix clerk of the Course Noel Johnston said: "There's no question that 'Davo' is a fast, fast rider, but he hasn't always had the best of luck around Dundrod, so I'm really pleased to see him get this chance."
"He definitely has the pace to run at the sharp end on the big bikes, but now he also has the added support of the Tyco team behind him, I think it could make all the difference."They've been winning around here, for well over a decade, so you just couldn't rule him out of a good result."
Michael Dunlop has been racing for the Moneymore-based outfit this season and won the Superbike TT in the team's colours at the start of June.
His participation at Dundrod is in doubt however as he has not raced since the death of his brother William at the Skerries 100 road races in early July, including sitting out last weekend's Armoy road races.
Manx rider Dan Kneen was killed in a practice crash at the Isle of Man TT in 30 June while riding for Tyco BMW.