Derek Sheils and Tom Weeden form Burrows Engineering line-up for 2019 road racing season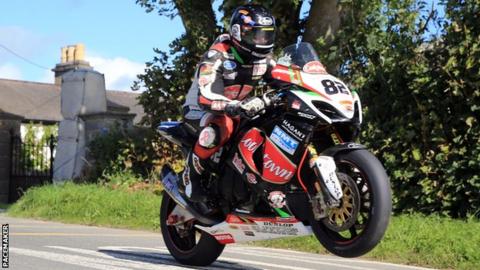 Dubliner Derek Sheils and former Senior Manx Grand Prix winner Tom Weeden will form the Burrows Engineering Racing team for the 2019 road racing season.
The outfit, runner by former road racer John Burrows, will compete at the North West 200, Isle of Man TT, Ulster Grand Prix and Macau Grand Prix.
They will also take in a selection of Irish National road race meetings.
The team will compete in conjunction with Richardson Kelly and will ride the latest-spec 1000cc Suzuki machinery.
Weeden, 24, from Kent, will also compete on a Yamaha R6 in the Supersport category.
Dubliner Sheils has enjoyed a long association with the Dungannon-based outfit but last season competed for the team only in the national events, switching to Penz13.com BMW colours for the 'big three' internationals.
"I'm delighted to have Derek back on a full-time basis for the three internationals and selected Irish National road races, plus Macau," said team principal Burrows.
"Derek unfortunately didn't have a great international run with us in 2017 at the TT especially, and that will be a major priority for us next year and we want to give Derek the chance to show what he can do.
"I believe there is a lot more to come from Derek and the top 10 at the TT is not out of his reach."
"Tom Weeden is new to the team and I have spoken to him a few times in person. I met Tom over at the NEC Show and we are looking forward to welcoming him into the team.
"Tom won the 2016 Senior Manx Grand Prix and lapped at over 121mph, which is a tremendous speed for a 600cc machine.
"We hope Tom can make good progress with us next year and although his career has not taken off the way he would have hoped - with a crash at the TT in 2017 putting him on the back foot - I am hoping that we can put the spark back into his career and he is certainly a quality rider."
Burrows outlined that the team are likely to compete in a reduced Irish National programme next year, taking in the Cookstown 100, Tandragee 100 and Armoy events.
"I'm back riding for Burrows Engineering Racing full-time in 2019 and it's a team that fits me very well," commented Sheils.
"I feel like we have done all that we can do at the Irish Nationals so the main thing for me now is to concentrate on the international events.
"The TT is a big thing for me and hopefully next year we will get a run of luck over there, which has been missing a bit over the last few years."
Davey Todd, who excelled in the team's colours last season, including winning the Best Newcomer and Best Privateer Awards at the TT is to move on to pastures new next year.