Euro wrestling bronze for Olga Butkevych in Germany
By Nick Hope
Olympic Sports Reporter
Last updated on .From the section Olympics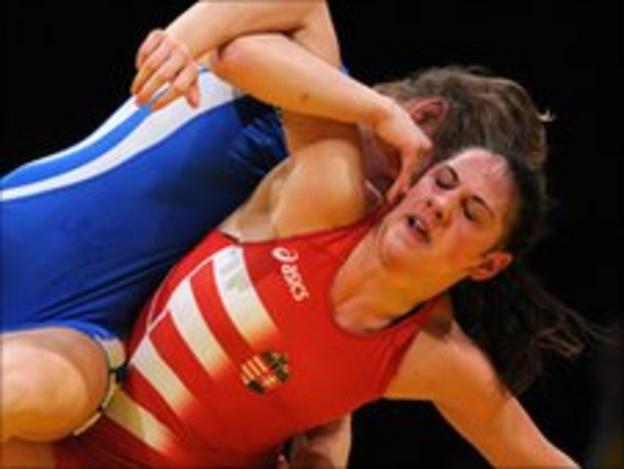 Olga Butkevych claimed bronze, her first major international medal for Great Britain, at the European Wrestling Championships in Dortmund, Germany.
Her 2-0 and 2-1 defeat of the Hungarian saw Butkevych attain third-place in the women's 59kg division.
Fellow Ukraine-born wrestler Yana Stadnik, who won a silver medal at last year's European Championships in Azerbaijan, this time had to settle for fifth place in the 48kg category.
Yana Stadnik is the sister of Ukraine's reigning Olympic silver medallist Andriy Stadnik and it was his wife (Yana's sister-in-law) Mariya Stadnik of Azerbaijan, who was victorious in their quarter-final encounter.
GB Wrestling's performance director Shaun Morley, was pleased with the overall standings.
"Olga really deserved her success," said Morley.
"These are two outstanding performances by our wrestlers - to win a medal, and come so close to another one is really encouraging.
"Both she and Yana have been working really hard, as have all the squad; but for Olga this will be a massive confidence booster just over a year to go before the Olympics," concluded Morley.
Butkevych and Stadnik who have both been living in the country since 2007, are currently going through citizenship tests and hope to become eligible to compete for Great Britain at the 2012 Olympic Games, in the coming months.
Of the other GB wrestlers competing at the European Championships, Commonwealth Champion and 74kg Greco Roman specialist Myroslav Dykun failed to repeat his form Delhi, losing both of his duels.
60kg wrestler Krasimir Krastanov and 96kg Leon Rattigan had to settle for 11th and 12th places respectively.