Olympic slalom course among world's toughest, say stars
By Ollie Williams
BBC Sport
Last updated on .From the section Olympics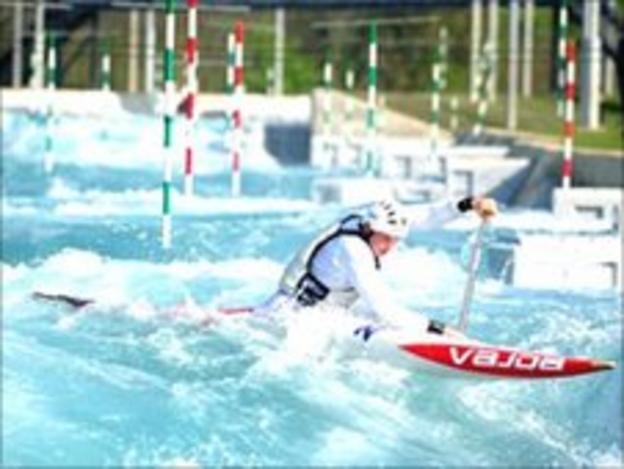 Britain's top slalom canoeists believe the 2012 Olympic course at Lee Valley will prove it is one of the world's toughest over the coming years.
The course, which will also host the sport's 2015 World Championships, was officially unveiled on Tuesday.
"Having trained here all winter, we're already at an advantage," GB's Lizzie Neave told BBC Sport.
"It's one of the hardest courses in the world and training here has been great for my paddling."
Last Friday, London won the right to host the 2015 Worlds at the course, which has been built from scratch for next year's Olympic Games.
A course in Bourg-Saint-Maurice, in the French Alps, lost out to Lee Valley when the International Canoe Federation (ICF) announced its decision.
"The rival was a venue in France favoured by a lot of athletes on the world scene," said 2004 Olympic silver medallist Campbell Walsh.
"Most of them haven't been here. Once they have, they'll be happy it's here."
The newly-constructed Hertfordshire course has been used exclusively by the British canoe slalom team for the last four months, but opens to the public - and foreign competitors training for the Olympics - on Friday.
"It's big, difficult, fast, powerful, steep, and lovely and clean - a beautiful blue colour - plus the facilities and the whole surroundings are fantastic," said Walsh.
"You can sit at the start and look down and imagine the scene being different: a wall of people in the stands, officials, volunteers and a lot of noise. Imagining that gets you in tune for the Olympics."
Neave added: "It's fantastic to have a facility like this and to guarantee more use of it after the Games, with the 2015 World Championships, is great."
The duo dismissed any concerns that British paddlers would surrender home advantage as the world's top canoeists queue up to try the course.
Walsh said: "There's a lot of talk of home advantage, but I want the best man on the day to win and that means a level playing field - which is totally fine by me."
British canoeists will continue to train on the Olympic course once it opens to the public but Neave cautioned anyone expecting to tackle the Olympic course that it remains a difficult challenge, even for elite athletes.
"Members of the public will be more in rafts than kayaks," she said.
"Kayaking is really hard to master and you have to have been doing it for quite a few years to be able to paddle this course."