Work finished on London 2012 Olympic basketball arena
Last updated on .From the section Olympics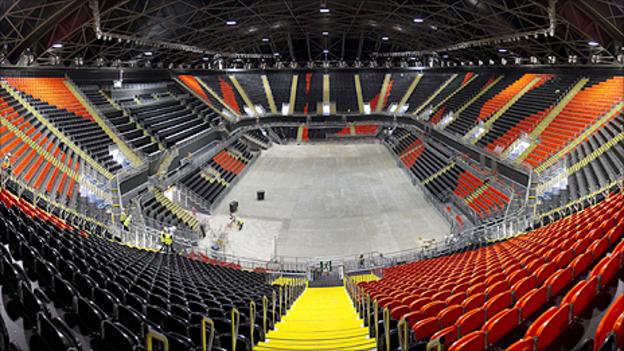 The building of the 12,000-seat basketball arena for the London 2012 Olympics has been completed.
The temporary stadium took 15 months to build and is the fourth venue at the Olympic Park to be finished, with a test event to be held there in August.
"It is a superb venue," said Lord Coe, chairman of the London 2012 Organising Committee.
"It will be the centre of some of the best team action during the London 2012 Olympic Games."
The 35-metre high white venue will be dismantled after the Games and a large part of it reused or recycled.
It will host men's and women's group basketball competition matches, women's quarter-finals and handball games.
The main section of knockout matches in the basketball event will take place at the O2 Arena.
"The basketball arena is another milestone for the Olympic Park 'Big Build'," said Dennis Hone, chief executive of the Olympic Delivery Authority.
The test event scheduled at the basketball venue will be the London International Basketball Invitational.
It will take place between 16 and 21 August, featuring men's teams from Britain, Australia, China, Croatia, France and Serbia.