Sir Clive Woodward takes 2012 Youth Olympic Games role
Last updated on .From the section Olympics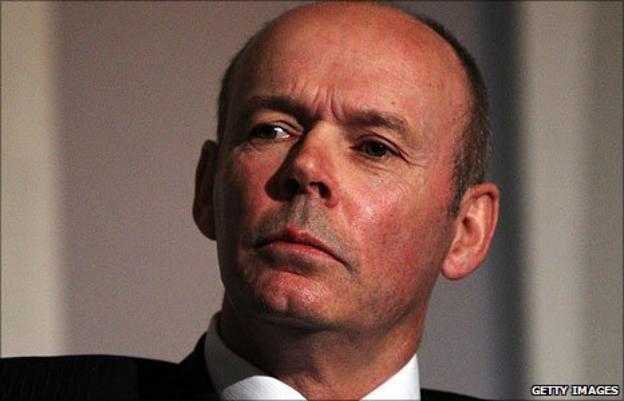 Sir Clive Woodward has been appointed chef de mission for the Great Britain team ahead of the inaugural winter Youth Olympic Games in January 2012.
Woodward, director of sport at the British Olympic Association, was deputy chef de mission in Beijing in 2008 and for the winter Games at Vancouver 2010.
"Our ambition is to find and develop future Olympians," said Woodward.
The role would appear to rule him out of any imminent return to the Rugby Football Union as performance director.
Last week's departure of John Steele as RFU chief excecutive prompted a raft of speculation linking Woodward with the position, despite that fact that the former England boss had dismissed talk of such a move back in May.
At that time, he said: "I would like to formally confirm that I will not be attending any interviews for this position.
"I am totally committed to my role as director of sport at the British Olympic Association and deputy chef de mission for Team GB in London 2012."
Steele's departure from the RFU led to speculation Woodward might reconsider, especially as changes made to the performance-director role by Steele - including the removal of any involvement with England manager Martin Johnson and his senior side - are likely to be overhauled.
However, Woodward's appointment would seem to put paid to the chances of him taking on the position in the near future, not least following RFU chairman Martyn Thomas's insistence that Woodward would have to give up his Olympic role to return to the RFU.
"I don't believe we can have a situation where a part-timer is doing the job," Thomas told BBC's Sportsweek programme at the weekend.
Woodward, a member of the International Olympic Committee's entourage commission, will be supported in Innsbruck, Austria in January by BOA head of winter sport engagement Mike Hay, who will be deputy chef de mission.
Team GB is expected to consist of approximately 20 athletes from five sports, competing against more than 1,000 opponents, aged 14-18, from over 70 nations across the world.
"I am delighted to take on the role of chef de mission for the first winter Youth Olympic Games," said Woodward.
"I am sure that the YOG in Innsbruck will be an important stepping stone in the development of our best young winter athletes both on and off the field of play."
And BOA chief executive Andy Hunt added: "I am delighted that our top young winter athletes will benefit from Clive's vast experience and expertise in leading a successful team and creating the performance-focused environment to enable them to perform to the best of their ability."
As announced in October last year, Woodward will serve as deputy chef de mission for Team GB at the London 2012 Olympic Games.