Rhythmic gymnast Frankie Jones aims to seize opportunity
By Jon Wilkinson
BBC Northampton
Last updated on .From the section Olympics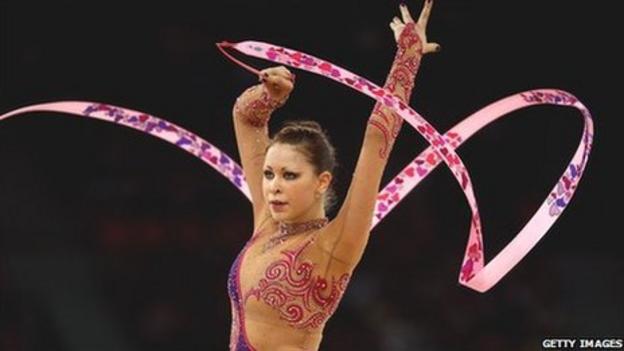 "Something needs to happen to help this country see rhythmic gymnastics as the beautiful sport it is," says British champion and Commonwealth Games silver medallist Frankie Jones.
The 20-year-old is on track to perform to sell-out home crowds at next summer's event.
The BOA took up a Host Nation Qualification Place for rhythmic gymnastics - paving the way for Jones to star on the biggest stage in sport.
The Welsh athlete, who lives in Northamptonshire, is fiercely determined to set the same example to British gymnasts as first inspired her at the age of nine.
"I remember watching the Games in 2000 when I was really young and it was amazing.
"It's such a big thing to have in the back of your mind now. It's quite daunting."
Jones sealed her fifth British title in June, beating Kezi Gore and Mimi Cesar, and she also won the hoop and ball apparatus finals.
Her coach Lisa Higgins says it is vitally important British gymnasts are competitive in 2012.
"It might be a minority sport but this puts us on the map and it's tremendous," she said.
"Frankie can be an ambassador for us. She's quietly driven and a nice person as well - people will be pleased to see her where she is.
"To be the best in Britain is an achievement in itself, but she can carry the flag for the sport too."
Whichever British competitor finishes highest at the World Championships in Montpellier this September will take the place at the Olympics.
But once there, there are no realistic hopes of winning a medal - and the frustration at lack of funding and exposure for the sport is clear.
For example, Jones lives in Wellingborough, Northamptonshire, but has to travel to Birmingham to train.
"The ceiling at my club in Wellingborough is too low, there's not enough floor space, we don't have a carpet and it's not a full-time gym. There's no way I could train properly," she said.
"There is no hope [for medals] now, but if you don't have someone there, how can you progress for the future?"
The East European nations look set to continue their domination of the sport - Russia has won the team all-around and individual all-around events the past three Games.
British funding was cut in 2009 and Great Britain does not currently have a full-time coach. Higgins volunteers her time to help Jones.
"We haven't got the set-up," says Higgins.
"In Russia, they are taken from two or three years old and school is low on the priorities. The situation won't change here in the near future.
"It can be very frustrating but we don't let it stop us - we have the passion to do it."
Tickets for the events next summer have sold out, and with a British gymnast involved, the support for Jones should be vocal.
"Not many athletes can even dream of something like this," says Jones.
"I don't want to let Britain down."
Frankie Jones is one of BBC Radio Northampton's three featured athletes as part of 'Olympic Dreams' in the build-up to London 2012.