Great Britain Olympic footballers 'may lack passion'
By Paul Plunkett
BBC Sport
Last updated on .From the section Olympics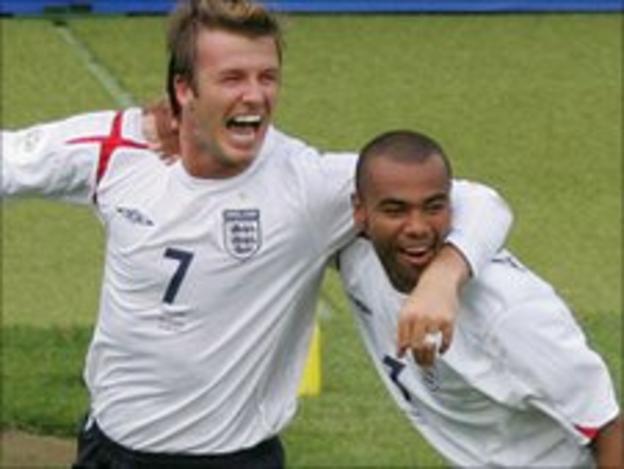 Top international players should not compete at the London Olympics, says a member of the last football team to represent Great Britain at a Games.
Mike Greenwood, now 76, was one of 19 amateur players in Team GB at the 1960 Games in Rome.
As the wrangling continues over the make-up of next year's squad, Greenwood said the big stars may lack passion for the tournament.
"Top-class players are trophy-hunting," he said. "They should step aside."
Greenwood was one of 12 Englishmen in the 1960 team, which also included four Scots and three players from Northern Ireland.
They lost to Brazil, drew with Italy and beat Formosa in their group as they made an early exit from the competition.
Britain have not fielded a football team at the Olympics since then, although a squad did try to qualify for subsequent Games up to 1974, when the English Football Association scrapped the distinction between amateurs and professionals.
Britain will field a team next year in London but it is not yet certain which countries will be represented.
Although the British Olympic Association said a "historic agreement" had been reached with the English Football Association that meant players from all four home nations would be available for selection, Scotland, Wales and Northern Ireland have denied this is the case.
In a joint statement issued last month, the three countries explained the reasons for their opposition.
"We have been consistently clear in explaining the reason for our stance, principally to protect the identity of each national association," it read.
"With that in mind, we cannot support nor formally endorse the approach that has been proposed by the Football Association."
Greenwood, a former midfielder for Bishop Auckland, is not a fan of professionals playing for Britain, whichever country they come from, claiming they would lack the passion and team spirit shown by amateurs.
He also raises concerns over the potential involvement of former England captain David Beckham, who has said he "would be honoured to play for the British football team at the London Olympics in 2012".
"I think it's sad that for financial and political reasons, some top-class professional sportsmen appear to be trophy-hunting," said Greenwood.
"They already play in World Cups and cup finals. I question whether they have the passion for the Olympics. Why don't they give others a chance? It's about the finance these days and money talks.
"I can see why David Beckham may be in the team. I've no axe to grind with him but it's all finance.
"Every kid in the country will want a replica shirt if it has got Beckham's name on the back. I've nothing against that but it seems he's in there for reasons other than sport."
And Greenwood added: "It's a pity there's no equivalent of amateur football like there was in my day.
"Representing Great Britain at the Olympics would give lesser mortals something to aim for and aspire to but that doesn't happen now.
"I played football because I enjoyed it. Those who played in 1960 were privileged and honoured to play for their country.
"If there was an amateur status, I'd rather they represented Great Britain at the Olympics."