100 Team GB contenders for London 2012: Paula Radcliffe
Last updated on .From the section Olympics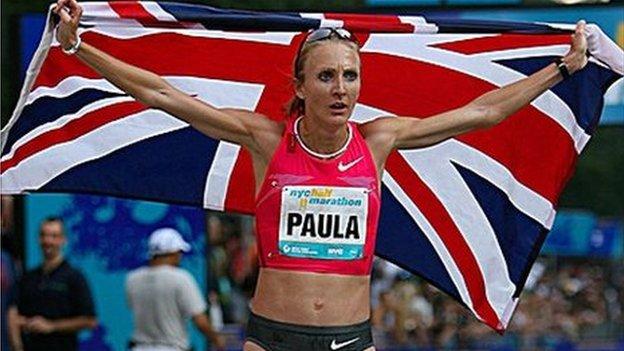 Athletics (marathon)
Career highlights
The marathon world record holder has won everything bar an Olympic medal. Having earned back-to-back world cross-country titles, Radcliffe surged to her first major track gold medals in 2002: the Commonwealth Games 5000m and European 10,000m. She ended her stellar year by breaking the marathon world record in Chicago, and six months later lowered it again at the London marathon.
Her first - and only - global gold medal at a major track and field event came in 2005 when she won the marathon at the World Championships.
Career lowlights
Radcliffe has ended each of her two Olympic marathons in tears; the Athens heat and humidity forced her to quit after 23 miles in 2004, and four years later she ended the race barely able to walk, let alone run, as the stress fracture she suffered at the top of her left leg three months earlier took its toll.
Prior to the London Olympics, Radcliffe had competed in only three of the previous 11 major championships due to a combination of injury, illness, pregnancy and choice.
Other career
Radcliffe took a 19-month break after falling pregnant with her second child, Raphael, and she described her comeback race in May 2011 as a "bit of a disaster" after only finishing third. She trailed in 55 seconds behind winner Jo Pavey in the Bupa London 10,000m and revealed she was suffering from a torn disc in her back.
She has twice finished fourth at the World Championships, in 1997 and 2001, as well as at the 2000 Olympics.