Welsh stars target glory at London 2012 Olympics
Last updated on .From the section Olympics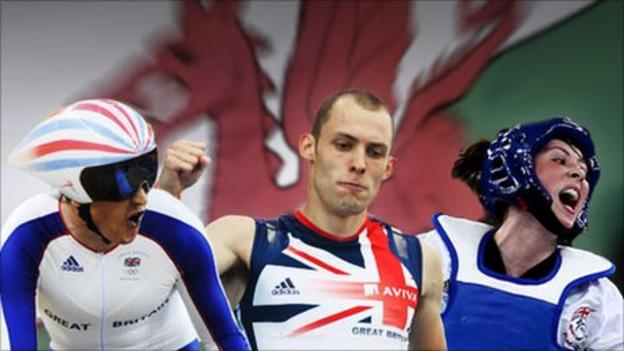 With one year to go until the official start of the 2012 Games, BBC Sport Wales looks at some of the elite Welsh sports stars seeking glory in London.
Although the opening ceremony will take place on 27 July 2012, the London Games will actually kick off in Cardiff two days before that, with the Millennium Stadium hosting the first of 11 football matches that will take place there.
Three years ago at the Beijing Olympics, Welsh athletes claimed the nation's best medal haul for 88 years as part of a fine British effort.
Cyclists Geraint Thomas, in the men's team pursuit, and Nicole Cooke, in the women's road race, plus rower Tom James - as part of the men's coxless four - won gold medals.
James' fellow rower Tom Lucy added a silver in the eight-man boat, as did swimmer David Davies with his effort in the men's open water 10k.
Now the challenge is to better that performance, as Team GB seeks to secure medal glory at a once-in-a-generation home Olympics, and with it a legacy of sporting excellence for the future.
Athletics - Dai Greene
Dai Greene enjoyed a fantastic 2010, winning both the European and Commonwealth titles, and has kept his good form going into 2011.
The Llanelli-born 400m hurdler has been handed the captaincy of the Great Britain and Northern Ireland athletics team and will be aiming for gold at August's World Championships in Korea.
Greene, 25, will continue to face stiff competition over the next 12 months from reigning Olympic champion Angelo Taylor and his fellow American Bershawn Jackson, plus South African Louis van Zyl.
But Olympic silver and bronze medal winner Kriss Akabusi has said that he expects Greene to continue improving his times and break his 21-year-old British record sooner rather than later.
"What gets me through training every day is imagining being on top of the podium - that's my target," Greene said.
"If I didn't have that aim of getting on top of the podium, then I don't think I could handle the training I'm going through.
"There's only four weeks' rest between now and the Olympics.
"I have a huge amount of confidence from my previous season so if I can get on the podium in Korea, then that will give me a huge boost ahead of 2012.
"I'll be a little bit older, a little bit stronger as well and will have the home support.
"An ideal result will be to win the World Championships and be a major contender for London."
Cycling - Geraint Thomas
Geraint Thomas has just completed his third Tour de France, finishing 31st as the highest-placed British rider in the general classification.
The Cardiff-born rider has earned glowing reviews for his growing prowess on the road and last week signed a new three-year contract to stay with Team Sky.
But when it comes to the Olympics the 25-year-old is a track specialist, having struck gold as part of the men's team pursuit in Beijing three years ago and setting a new world record time of three minutes, 53.314 seconds in the process.
After that success for Bradley Wiggins, Paul Manning, Thomas and Ed Clancy, a British pursuit quartet of Thomas, Rob Hayles, Steven Burke and Clancy also took gold at the World Championships in Manchester.
Thomas has also shone in the individual pursuit at World Cups, and all this after his senior career was derailed when he ruptured his spleen in 2005 after an accident in Australia.
Despite his new-found fame amongst the Peleton, Thomas is likely to turn his back on the Tour de France next year as the race does not end until 10 days before the start of the Olympics.
Instead he will switch his focus back to the track to concentrate on maintaining British dominance in the velodrome.
"It still feels ages away," Thomas said. "Racing on the road, because we're racing so much... you just think about the here and now.
"Obviously the racing you do is planned and with the Olympics in the back of your mind.
"But at the same time I haven't really thought about it properly and I probably won't until October when I get back on the track when the whole Olympic run-in will start for me.
"But it's gone so fast since Beijing, that's for sure, and it's exciting London. A home Olympics is a once in a lifetime opportunity really and being in with a real good chance of winning a gold medal is amazing."
Thomas is not the only Welsh cyclist who could cover themselves in glory next year, with Nicole Cooke the defending women's road race champion while the likes of young guns Becky James and Sam Harrison are pressing their claims to make the GB squad.
Swimming - Jazz Carlin
Twenty-year-old Jazz Carlin is the Welsh record holder in the 200m, 400m and 800m freestyle and is one of the rising stars of British swimming.
Welsh compatriots Gemma Lowe, Georgia Davies, David Davies, Tom Allen and Tom Haffield are other potential swimming stars of London 2012.
At the 2010 Commonwealth Games in Delhi, Carlin became the first Welsh woman in 36 years to win a championship medal as she took silver in the 200m and bronze in the 400m.
Some of Carlin's biggest obstacles to an individual medal in London are likely to come in the shape of her Great Britain team-mates, with Rebecca Adlington a 2008 double Olympic champion in the 400m and 800m.
Federica Pellegrini of Italy and Camille Muffat of France will also provide stiff competition over 400m, while Denmark's Lotte Friis is a major force at 800m.
But while British swimming's strength in depth lessens Carlin's individual medal chances, in the relay it is a positive and the Swansea-based swimmer is likely to form part of a formidable 4x200m selection alongside the likes of Adlington, Caitlin McClatchey, Jo Jackson, Kerrie-Anne Payne, Hannah Miley and Rebecca Turner.
"I think the British team has come a long way since Beijing," said Carlin, whose determination has earned her the nickname 'Pit Bull' from coach Bud McAllister.
"I am still young and getting faster and building towards 2012... hopefully I can get into some finals and post some good times.
"I know once I get in the final it's anyone's race. I've just got to go out there and give it the best shot I can.
"There is an expectation but I think I put more on myself than anyone else. I'm going to go out there and do the best I can."
Carlin endured a difficult 2011 World Championships as the after-effects of glandular fever saw her struggle in Shanghai, bowing out of the 400m heats in a time of 4min 9.64sec - some way below her best of 4.05.51.
But if she can bounce back from illness and disappointment and continue her rise, Carlin may yet take her place on the podium in a year's time.
Rowing - Tom James
Tom James was one of the rowing quartet who continued Great Britain's glittering record in the men's coxless fours with gold at the 2008 Olympics three years ago.
The Cardiff-born 27-year-old rewarded himself with a year off after Beijing, but upon his return to competition James suffered a back injury that needed surgery and sidelined him for the rest of the season.
But the former Cambridge Blue has picked up where he left off, reclaiming his place in the four-man crew in time for the World Championships in Bled, Slovenia, at the end of August.
Alex Gregory, Matthew Langridge, Ric Egington and James are the men currently tasked with restoring British pride after the coxless four slumped to a disappointing fourth place at the 2010 World Championships, with France, Greece and hosts New Zealand taking the medals.
A return to form in the class made famous by the likes of Steve Redgrave and Matthew Pinsent will see James and his team-mates installed as one of the favourite crews for Olympic gold in London.
"Athens and Beijing are one thing," James said. "But now we've got 70-odd million people in the UK willing us to win. It's a whole new ball game.
"It's going to be two weeks which will be absolutely amazing. I'm positive it's going to be one of the best Olympics."
Taekwondo - Jade Jones
Jade Jones is just 18 but has already got a World Taekwondo Championships silver medal to her name, after winning through to the 2011 final in Gyeongju, South Korea, last May.
The Bodelwyddan native, who now lives down the road in Flint, had already announced her talent the previous year by being crowned champion at the Youth Olympics and taking silver at the World Junior Championships.
But Jones' impact on the senior ranks has placed her to the forefront of home medal hopes for London 2012.
As not all weight divisions were able to be included at the Olympics, the youngster's rise has also come in time to ensure that her -57kg category was one of those chosen for next year.
"When I used to go into a competition nobody used to know me... but now everybody does and have watched fights of me so it's harder," Jones said.
"I've had to change my game a bit so I'm unpredictable... I have to push it all the time and build on different things.
"The pressure's on now because I'm not an up-and-coming junior any more and I've got to try and deliver at London because they've picked my weight.
"Most people perform better in training but I seem to be the other way round; when the pressure's on and I've got to perform that's when I do the best.
"A year to go is mad, it only seemed like the other day it was four years.
"When I won the Youth Olympics they had a street party in Flint, so I couldn't imagine if I'd won the 'proper' Olympics what it would be like!"
As part of her build-up, Jones will contest the British Open in October, followed by the French Open and then complete preparations for the Olympics at the Manchester-hosted 2012 European Championships at the beginning of May.