100 Team GB contenders for London 2012: Rebecca Adlington
Last updated on .From the section Olympics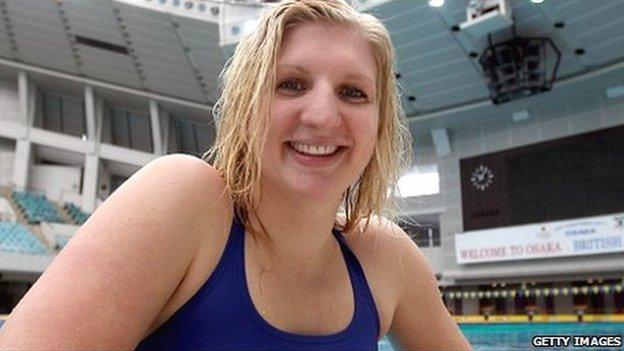 Swimming (freestyle events)
Career highlights
The Mansfield swimmer was sensational at the Beijing Olympics, winning two gold medals and smashing the 800m freestyle world record (which had stood since 1989) by 2.12 seconds.
Her 400m success a few days earlier was even more dramatic, with Adlington pipping Katie Hoff of the United States by just seven 100ths of a second. In doing so, she became the first British woman to win Olympic gold in the pool since Anita Lonsbrough in 1960.
She won her first World Championship gold medal in 2011, in the 800m freestyle, and took silver in the 400m.
Other career
Adlington initially struggled to cope with the huge expectation post-Beijing and was in tears after finishing seventh in the 800m freestyle at the 2010 European Championships in Budapest.
Her form returned at the Commonwealth Games where she won two gold medals.
Did you know?
The pool in Mansfield where Adlington learned to swim was re-named in her honour after her Beijing success. The Rebecca Adlington Swimming Centre - formerly known as Sherwood Baths - was opened in 2010 after a £5m facelift.