50 worldwide contenders for 2012: Tony Estanguet
Last updated on .From the section Olympics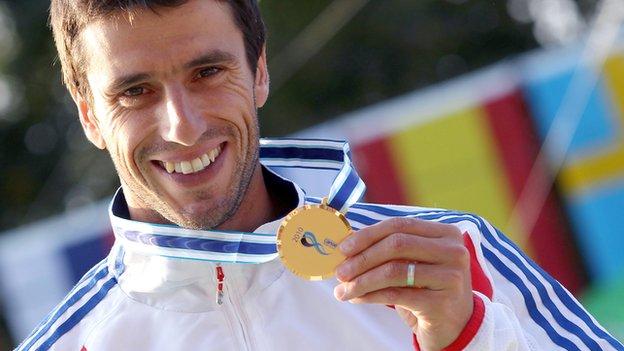 Canoe slalom
Born: 06/05/78
Career highlights
Estanguet became the first canoeist to successfully defend an Olympic individual whitewater title when he struck gold in 2004. The Frenchman was promoted to top spot in unusual circumstances in Athens when long-time rival Michal Martikan incurred a two-second penalty after a post-race review.
Estanguet added the 2010 world title and 2011 European crown to his lengthy list of major honours.
Other career
The double Olympic champion only came ninth in 2008. He later claimed his preparations had been compromised by the pre-Games duties he had to carry out in his role as France's flagbearer at the opening ceremony in Beijing.
Estanguet was raised at the foot of the Pyrenees and started canoeing when he was five - encouraged by his father Henri, who won team medals at the Wildwater Canoeing World Championships in the 1970s. Estanguet won World Cup gold on his senior debut at the age of 18.
Did you know?
Estanguet beat his brother Patrice to France's solitary spot in the individual competition at the 2000 Olympics. Patrice had won Olympic bronze four years earlier.