50 worldwide contenders for 2012: Michael Phelps
Last updated on .From the section Olympics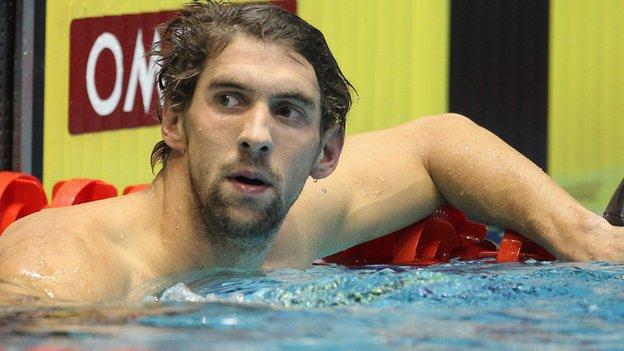 Swimming
Born: 30/06/85
Career highlights
Phelps made history at the last Olympics by winning eight gold medals, the most by one athlete at a single Games. He set seven world records and eight American and Olympic records in Beijing.
His overall tally of 16 Olympic medals - including an unmatched 14 gold - is bettered only by Soviet gymnast Larysa Latynina, who won 18 between 1956 and 1964.
Phelps is the most successful swimmer in World Championship history, with 26 gold medals. It is a measure of his achievements that his tally of four golds at the latest World Championships in Shanghai was considered a slight disappointment.
Career lowlight
He was banned for three months by USA Swimming in 2009 and dropped by a major sponsor after photographs were published of him smoking a marijuana pipe.
Phelps publicly apologised for his "regrettable" behaviour and for having "demonstrated bad judgement".
Other career
Baltimore-born Phelps took up swimming aged seven in order to provide him with an outlet for his energy (he was diagnosed with attention-deficit hyperactivity disorder as a child).
At the age of 15 years and nine months he became the youngest man ever to break a swimming world record, setting a new mark in the 200m butterfly. At the 2003 World Championships, he became the first swimmer ever to break five individual world records at one event.
Did you know?
Phelps has an arm span three inches greater than his 6ft 4in height. A man's height and arm span are generally the same, so Phelps' increased span enables him to generate more power than his rivals.