50 worldwide contenders for 2012: Im Dong-Hyun
From the section Olympics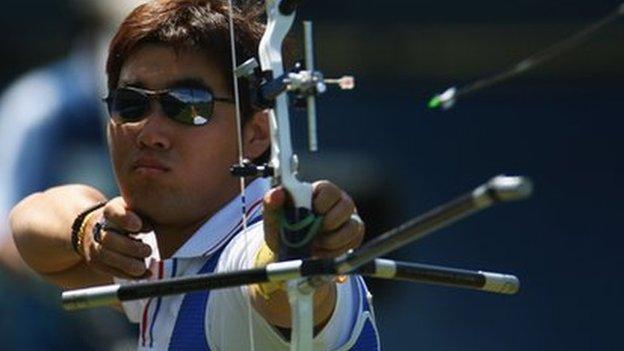 Archery
Born: 12/05/86
Personal
One of the best archers in the world is legally blind in one eye. Korea's Archery Federation confirms that the vision in Im's left eye is 20/200 - meaning he can see at 20 feet what someone with normal eyesight can see at 200 feet. His right eye isn't too good either (20/100).
Im has dismissed the idea of having laser eye surgery and says he's uncomfortable in glasses or contact lenses. The recent world number one admits "the lines between the colours (on the archery target) are very blurred."
Career highlights
Im won team gold at each of the last two Olympics, although he awaits a first individual Olympic medal.
He was world champion in 2007, silver medallist in 2003 and 2009 and won overall World Cup gold in 2008.
He broke his own world record for the 72-arrow ranking round at the World Cup in May 2012, with a score of 696 out of 720.
Career background
He took up archery at the age of 10 on the recommendation of his primary school teacher.
Im almost gave up the sport five years later after becoming dispirited with his lack of success, but his parents convinced him to persevere.