50 worldwide contenders for 2012: Haile Gebrselassie
Last updated on .From the section Olympics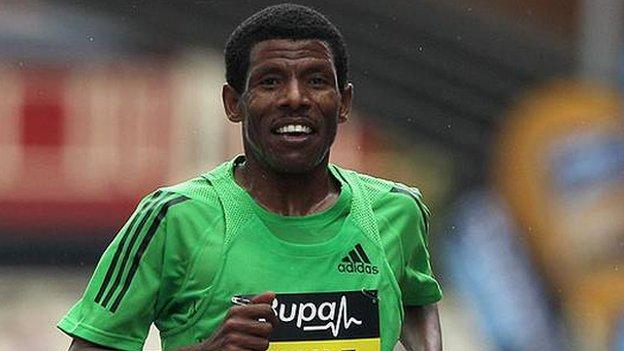 Athletics (marathon)
Born: 18/04/73
Career highlights
One of the most successful long-distance runners in history has made the London Olympics his "last big goal".
It will be Gebrselassie's 20th year as an international runner; he has won two Olympic gold medals, eight world titles indoors and out and set an astonishing 27 world records. The last of those was at the Berlin marathon in 2008 when he won in 2hr 3min 59sec.
Other career
He announced his immediate retirement in November 2010 after an inflamed knee prevented him from finishing the New York marathon. However, eight days later Gebrselassie reversed his decision.
He has concentrated on the marathon since finishing fifth over 10,000m at the 2004 Olympics but opted out of the race at the Beijing Olympics because he feared the city's air pollution levels would trigger his asthma.
Gebrselassie first came to the fore at international level when he won both the 5,000m and 10,000m at the 1992 World Junior Championships, aged 19.
Did you know?
After his Olympic triumph in Sydney, a squadron of MiG jets was sent by the Ethiopian government to accompany the athlete's flight home, and a million fans watched his procession from the airport to Addis Ababa city centre.
Personal
The son of a farmer, Gebrselassie is one of 10 children. He was brought up in a mud hut and would run 10km to school and back every day. He lodged his books under his armpit - hence his distinctive running style with a slightly crooked left arm.
He is now one of Ethiopia's richest men and his business empire employs 600 people.