50 worldwide contenders for 2012: LeBron James
Last updated on .From the section Olympics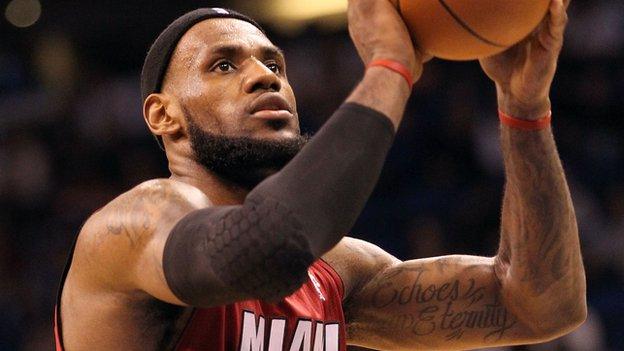 Basketball
Born: 30/12/84
Career highlights
'King' James finally achieved the NBA title that had eluded him for so long when he led the Miami Heat to victory over the Oklahoma City Thunder in June 2012.
He was named series MVP to confirm his status as the biggest name in the world of basketball and a natural heir to his idol Michael Jordan.
An Olympic gold in London would match the achievement of the legendary Jordan in 1992, who was an MVP, NBA champion, NBA Finals MVP, and Olympic gold medal winner.
Other career
He was earmarked for greatness from a young age, with Nike giving him a shoe contract before he had even made his professional debut.
James made a controversial move from the Cleveland Cavaliers to the Miami Heat in 2010, a decision made on a live television programme called The Decision. The move was called a 'cowardly betrayal' by Dan Gilbert, the majority owner of the Cavaliers.
Personal
He is the first black man to appear on the cover of Vogue magazine, doing so in 2008. That year he executive produced the film More Than a Game, a true story charting the lives of five talented basketball-playing friends, including James, during their youth. The film, which revealed James' tough and nomadic childhood raised by a single mum, debuted to acclaim at the Toronto Film Festival.
In April 2011 he was made a minority shareholder in Liverpool FC in return for allowing the club's parent company, Fenway Sports Group, to market him.