50 worldwide contenders for 2012: Anna Meares
Last updated on .From the section Olympics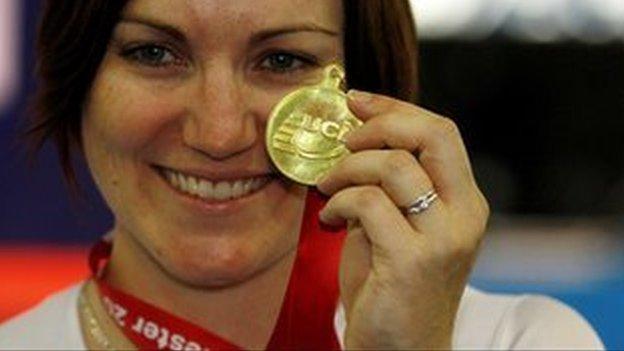 Cycling (individual sprint, team sprint, keirin)
Born: 21/09/83
Career highlights
The formidable Meares has three Olympic medals, including gold in the 2004 time trial, and is likely to be one of Victoria Pendleton's main rivals.
Meares is the reigning time trial world champion (she also won in 2004 & 2007 and has taken silver three times), and she and Kaarle McCulloch have won the world team sprint title for the last two years.
She has 14 World Championship medals in total and won three golds at the 2010 Commonwealth Games.
Did you know?
Meares suffered a fractured vertebra and dislocated shoulder when she crashed in a keirin race in Los Angeles in January 2008. She was lucky not to have been paralysed or even killed, but remarkably returned to competition within six months and took silver behind Pendleton in the sprint at the Beijing Olympics.
Afterwards she said: "I couldn't tell you what that means to me. For all I care, that silver medal could be gold."
Personal
The coalminer's daughter from Blackwater, Queensland, paints in her spare time and in 2010 she auctioned "a modernised image" of her reaction to winning Olympic gold; her painting raised Aus$4,500 for a children's cancer charity.
Her older sister Kerrie was also a top cyclist who won world and Commonwealth medals.