50 worldwide contenders for 2012: Matthew Mitcham
Last updated on .From the section Olympics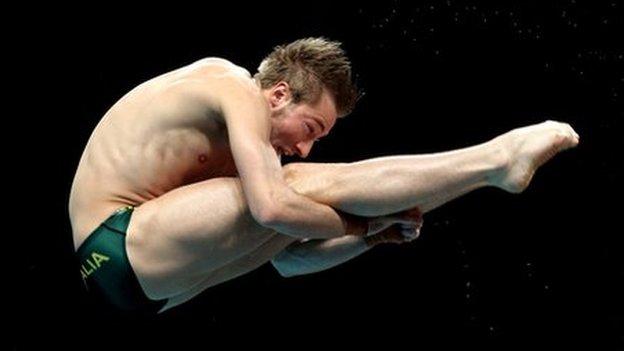 Diving
Born: 02/03/88
Career highlights
Mitcham produced one of the most memorable moments of the Beijing Games when he perfectly executed the highest scoring dive in Olympic history in the final round (112.10pts) to overtake China's Zhou Lu Xin and win the 10m platform title.
His dive - a back 2½ somersaults with 2½ twists in the pike position - ensured he became the only non-Chinese diver to win gold in the Water Cube and made him Australia's first male Olympic gold medallist in diving since Dick Eve in 1924.
He beat the Chinese in their own backyard again in June 2010, winning 10m platform gold at the World Cup. He was consequently ranked first in the world for the first time.
Personal
He went public about being gay prior to the 2008 Olympics.
In his late teenage years he was on medication for depression, and he retired from competitive diving for a year after failing to medal at the 2006 Commonwealth Games. He moved from Brisbane to Sydney, living off instant noodles and sleeping on a friend's sofa.
But he rediscovered his enjoyment of diving after taking a job plunging from a tower into a pool of water while dressed as a bumble bee at the Royal Easter Show.
Career background
A former youth international trampolinist, he was spotted aged 11 showing off a few double-flips at the local pool by one of Australia's senior diving coaches.
He won bronze in the 1m springboard at the 2009 World Championships, but was fourth in the 10m platform. He won silver medals in each of his four events at the Commonwealth Games in 2010, but missed the 2011 World Championships with an abdominal injury.