50 worldwide contenders for 2012: Behdad Salimikordasiabi
Last updated on .From the section Olympics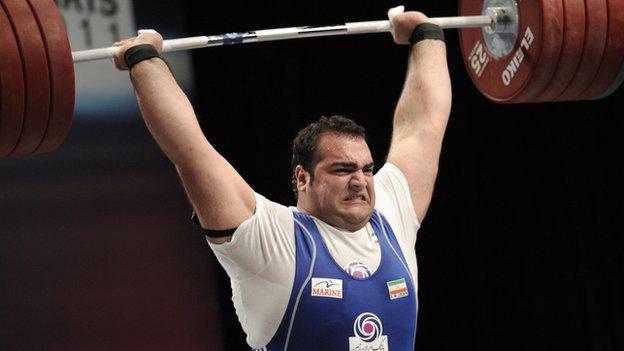 Weightlifting (over 105kg class)
Born: 08/12/89
Career highlights
The Iranian super heavyweight has emerged as an unstoppable force in weightlifting. He won the world title at his first attempt in 2010 - easily overcoming Olympic champion Matthias Steiner by lifting a total of 453kg and then retained his title with an even more impressive performance at the 2011 championships by lifting 464kg.
He set a new world record of 214kg in the snatch lift breaking the previous record of 213kg lifted by Salimikordasiabi's fellow Iranian and two-time Olympic champion Hossein Rezazadeh in 2003.
Did you know?
Salimikordasiabi won Asian Games gold in 2010 despite being affected by swine flu and collapsing during a lift in the clean and jerk. He stunned his rivals by only entering the competition at 201kg in the snatch - after everyone else had lifted their top weight and returned to the changing room.
Other career
Salimikordasiabi came to the fore in 2009 when he won three gold medals at both the World Junior and Asian Championships.
He retained his Asian titles in April 2011 by lifting a total of 458kg.