London 2012: Wind surfer Nick Dempsey confident
Last updated on .From the section Olympics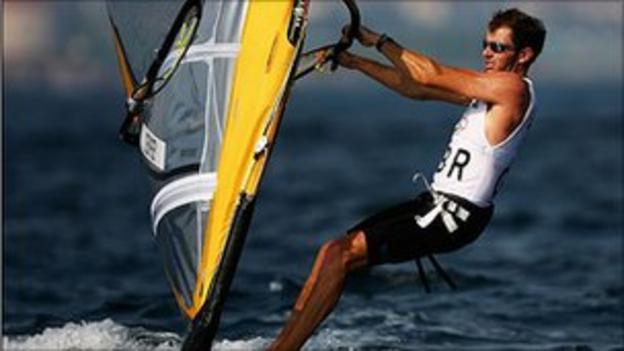 Weymouth-based wind surfer Nick Dempsey is excited about competing in the sailing events of London 2012.
London 2012 will be Dempsey's fourth Olympics and, with a year to go, he said he is feeling "confident".
He said: "Training is going well and I'm on target. It's all getting pretty exciting."
Dempsey trains at the Weymouth and Portland National Sailing Academy - the actual venue of the 2012 sailing events - and has done so since 2001.
But he believes any home advantage he may have is diminishing.
He said: "I know the waters well but, as more competitors spend time here, they become familiar with it too so I'm making the most of it."
Dempsey, who was the 2009 RS:X world champion wind surfer and is currently ranked eighth in the world, said: "There's no other competition like the Olympics.
"You can win everything else but nothing compares to it and it being a home Games makes it more special."
Training schedule
At the age of 19, Dempsey finished 16th in his first Olympics in Sydney in 2000.
In Athens in 2004, he finished third and won a bronze medal.
But in Beijing in 2008, he was disappointed to finish in fourth place. However, he has said missing out on a medal has helped to increase his motivation for 2012.
He said: "Competing in the Olympics doesn't get easier but the goal [of a gold medal] becomes closer.
"It's not chasing the dream anymore. You are chasing something you know you can do."
His current training schedule can mean up to three hours out on the water each morning, followed by afternoons spent on a rowing machine or in the gym, or analysing his performance with the help of a coach and physiologist.
He said that as the Olympics grow closer the training is likely to get more intense.
"Everything will become more calculated and every training session is more precious.
"You have to make the most of every day."
Nick Dempsey is one of BBC Dorset's featured athletes as part of 'Olympic Dreams' in the build-up to London 2012.