Crowd 'could sway judges' for Britain at London 2012
By Ollie Williams
BBC Sport
Last updated on .From the section Olympics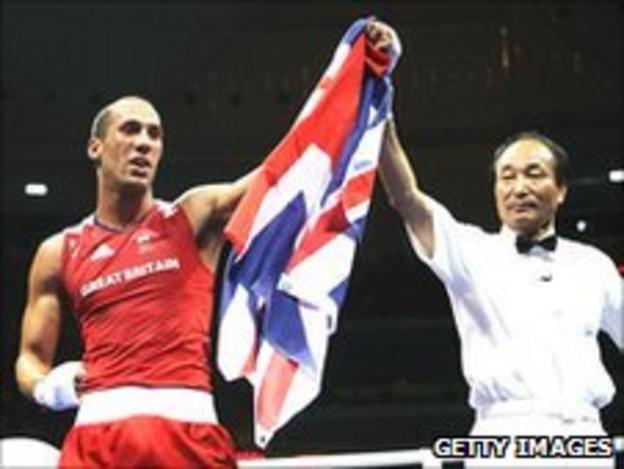 Home crowds could help sway judges in favour of British athletes at London 2012, research seen by the GB team's backers, UK Sport suggests.
In events where judges influence the outcome, such as boxing and gymnastics, UK Sport says it has "interesting data" on home performance at past Olympics.
"We commissioned research and read the literature," said UK Sport's Pete Keen.
"The data tends to suggest if there is a strong subjective judging element, you see an increase in home results."
Highlighting boxing as an example, he added: "That sport stands out as having a consistent trend where home nations that have a boxing background perform particularly well at their home Games.
"There are no concrete answers as to why that would be, but the overall trend is towards a small but significant increase."
However, Keen cautioned that no sport could rely on that factor at next year's Games.
"There are so many unknown variables behind any sport that we have to be careful extrapolating to a wider trend," he said.
"If there is a relevance to this, it's about the what-if scenarios you need to plan through, to manage the psychology of competing at home."
UK Sport went on to similarly warn Britain's Olympic and Paralympic sports of the dangers of home distractions in the 12 months leading up to the London Olympics, as it unveiled its latest Mission 2012 update.
Mission 2012 sees UK Sport work with each sport's management to assess its progress on a quarterly basis, using a traffic-light system.
Currently, 11 Olympic sports receive the highest green rating, up from nine this time last year. None received a red "danger" rating.
Green equates to "on track", amber implies there are minor issues but the solutions are being put in place, and red is "a cry for help" where major problems appear to have no resolution in sight.
"With 12 months to go, British sport could not be in a better place," said UK Sport chief executive Liz Nicholl.
"We are on track to achieve our goal of finishing in the top four in the Olympic medal table."
The last Olympic sport to receive an overall red rating was handball, in summer 2009.
Handball now has a green rating, as does boxing, canoeing, cycling, equestrian, gymnastics, hockey, pentathlon, rowing, sailing and taekwondo.
Britain's taekwondo athletes had their best-ever performance at a World Championships this year, winning three medals in Olympic weight categories the team plan to contest at the Games.
Athletics and swimming are both rated amber, but neither sport expresses grave concerns.
UK Athletics says it has a much stronger team than in the year prior to Beijing 2008 and is "confident targets can be achieved", while British Swimming's competitors are currently taking part in the World Championships in Shanghai, where a target of five to eight medals has been agreed.
UK Sport said it expects sports to face a barrage of distractions - including requests from the media, public appearances and social media among others - in the 12 months which now follow until the Games begin.
"There's an expectation of an uplift when a home nation competes, but it doesn't figure largely for us other than in dealing with the risks associated with a home Games," said Keen.
"Any day lost to anything other than training is potentially a drop in performance.
"Many sports will be using Loughborough prior to the Olympics, where they can put something of a protective ring around the training site, so you have some degree of privacy and a sense of space."
David Faulkner, GB Hockey's performance director, said he had taken personal control of athletes' commitments in a bid to mitigate the effects of these distractions.
"We have to prepare for that distraction and it's started already," said Faulkner, whose men's and women's teams are both ranked fourth in the world.
"I've personally taken a lead on all activity as I'm concerned it'll get out of control.
"We are moving into a world of our hockey athletes having agents for the first time, when we need our contact time with our athletes to maintain our performances.
"We want our high-profile athletes to have names, but it can't be at the cost of what the team are trying to achieve in 2012."
Lorraine Brown, performance director for GB Handball, added that advanced preparation is under way to acclimatise her athletes to the frenzied environment of a home Olympics.
"They aren't there to collect autographs, they're there to play handball," she said.
"If they want autographs they can buy a ticket and not put themselves forward for GB selection.
"As much as possible, we want nothing to be new [at the Games] and everything to be a normal routine - as opposed to walking into an Olympic environment for the first time."
UK Sport always stresses that its Mission 2012 ratings are not dreamed up by their staff overnight - they are agreed in partnership with each sport after lengthy dialogue.
Sports take varied approaches to the ratings system in those discussions. A green light for handball and an amber for swimming does not mean handball is necessarily in much better shape, or a better medal prospect in 2012. It means the sports are using different criteria to judge what success means for them.
But the colour ratings remain a useful guide to the way sports are interpreting their own performances, or lack of them, with a year to go until the Olympics.