Guildford's Rachel Cawthorn dreams of Olympic medal
Last updated on .From the section Olympics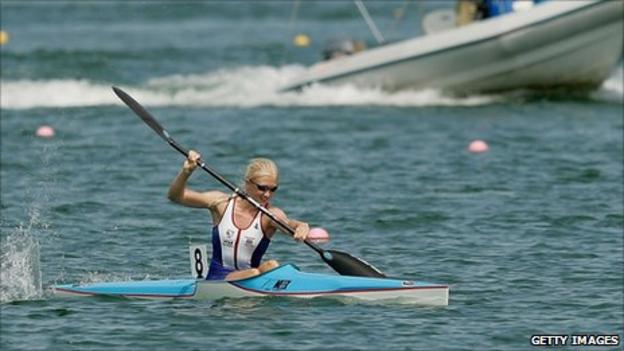 With less than a year to go before the Olympics, a kayaker from Guildford who is a genuine medal prospect, has told of her earlier belief that she was "rubbish at sport".
Rachel Cawthorn, 21, will compete - if selected - in the kayak sprint event in Eton Dorney, Berkshire.
She won the 500m K1 (single kayak) World Cup race in Germany, in June, and the event's 1,000m final.
And now she hopes to achieve her dream of an Olympic medal at London 2012.
She told BBC Surrey she was first introduced to kayaking after being talent spotted at school by the British Canoe Union.
"I was invited along to testing and did bike tests for fitness, strength tests and throwing tests for some reason - I don't know how I got on because I'm rubbish at throwing," she said.
"I started paddling down at Wey Kayak Club, in Guildford, and spent the whole of the first summer falling in.
"I realised how much I liked it and got more intense, and here I am today."
Cawthorn said she never thought she had the ability to be good at sport.
"I thought I was one of those people who were rubbish at sport," she said.
"I loved watching the Olympics but I never considered that I could have the chance of being there."
And she said watching Tim Brabants win his Olympic gold medal in the 1,000m sprint in Beijing has helped to inspire her.
"I was lucky enough to go out to Beijing in 2008 and we got to watch Tim race," she said.
"That was definitely my best Olympic memory. He just dominated the race and came in first. It was an amazing thing to witness and inspirational."
Rachel Cawthorn is BBC Surrey's featured athlete as part of 'Olympic Dreams' in the build-up to London 2012.