London 2012: Running dream for Louise Damen
Last updated on .From the section Olympics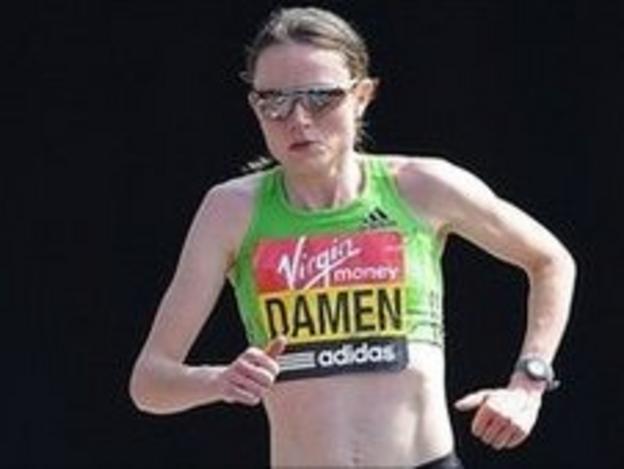 "There is not a day goes by when I'm not thinking about it," says Winchester teacher Louise Damen about her aim of running the Olympic marathon.
The 28-year-old made the Olympic qualifying time in this year's London marathon - the first time she had run a marathon.
After a series of injuries, she says "everything fell into place" for her to fulfil her ambition of running the marathon in the first Olympics to be held in the UK since 1948.
She started running at the age of 14 and enjoyed success as a junior with Bournemouth Athletics Club.
Looking back, she credits her PE teacher at school in Ringwood for pointing her towards running.
"I was pretty useless at other sports. I was quite small so wasn't much good at games that needed strength and muscles. However, I found my niche with running. It was 'wind me up and watch me go'."
Her marathon debut was in London in March of this year.
Although she made the Olympic qualifying time, she will not know until next April if she has been selected for Team GB. "It's exciting but a nerve-wracking wait," she admitted.
Between now and then lies a carefully planned training routine. Training twice a day, working in the gym and running between 100 and 120 miles each week is part of the build-up to her next planned marathon in the autumn.
"Winchester is a fantastic place to train. You can run in all directions and you'll be going through some amazing countryside either with off-road or on-road combinations."
She admits maintaining an elite training programme with her working life has been tough.
A sabbatical from her teaching job at Peter Symonds College will give her the chance to aim for London.
"Obviously, I've still got a mortgage to pay but I'd hate to look back in 10 years' time and think I didn't give that a chance."
"It would just be incredible to have that experience of running through London with the hometown support.
"It would totally make all that effort worthwhile," she added.
Louise Damen is one of BBC Radio Solent's featured athletes as part of 'Olympic Dreams' in the build-up to London 2012.