Olympic Dreams: Jeffrey Lawal-Balogun running to 2012
By Boc Ly
BBC News, London
Last updated on .From the section Olympics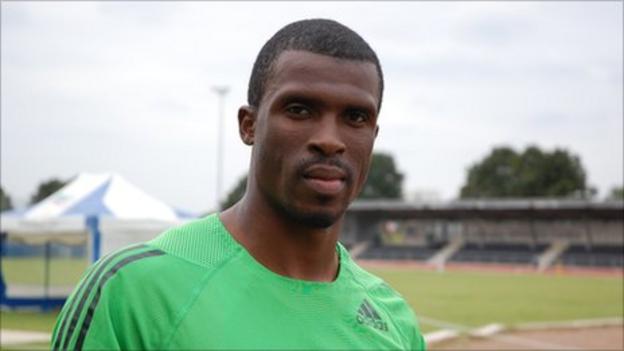 Six years ago, the last thing on Jeffrey Lawal-Balogun's mind was taking part in the London 2012 Olympic Games.
He was late for a class at Bromley College in south London and running for the bus.
He missed the bus, but caught something much more important - the eye of an onlooker who thought he could be a sprinter and who persuaded him to give athletics a try.
Fast forward to the present day and Lawal-Balogun, now 25 and an established 200m sprinter, is training at Lee Valley Athletics Centre, under the watchful eye of his coach Clarence Callender.
Taking part in the Olympics is now very much on his mind.
Always fast
By his own admission, it is an extraordinary rise for someone who did not take up the sport of athletics until he was 19.
"I was always fast but I didn't actually know how fast I was until I started athletics," he said after his training session.
Growing up in south London, Lawal-Balogun would occasionally play football and basketball in the park with his friends but that was the extent of his sporting activities.
"The first year doing athletics, I didn't know anything. I just ran. The second year it got a bit more technical, and I got quicker because, technically, I knew what I was doing," he said.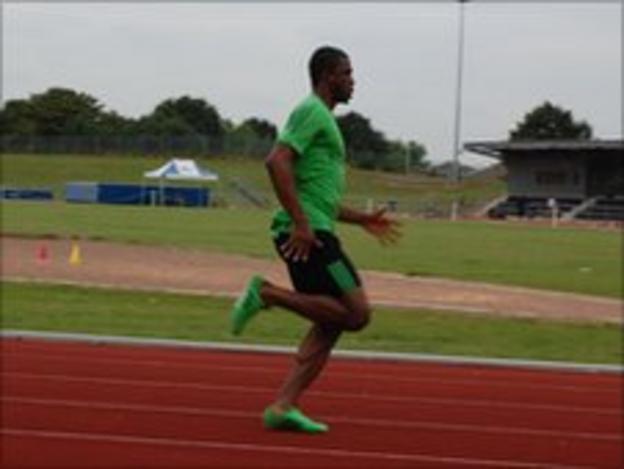 It was the sprinter's third year, in 2009, that really showed his promise. He ran a personal best time of 20.38secs in the 200m.
A year later he was selected to take part in the Commonwealth Games but was unable to compete because of a stress fracture to his right ankle.
Nothing is easy
Lawal-Balogun is still working his way back to peak condition following the operation on his ankle. He decided to operate, in part, so that he would have enough time to get himself fully fit for the 2012 Games.
He is now training six days a week, which involves "a lot of running, a lot of conditioning" to get himself back into shape.
He hopes part of his schedule between now and next summer will also involve going over to the United States to train with top American sprinter, Tyson Gay.
"You have to focus. It is hard but nothing in life is easy. You have to work for everything you've got. No matter what career you've chosen, you have to work hard. The training in the winter is terribly hard," said he said.
"I like to think about the times when I used to have apple crumble and ice cream. But those sacrifices are worth it."
The day job
On top of his dedication to his sport, Lawal-Balogun also manages to hold down a day job, doing the marketing for a company that builds 'apps' for coaches. They are, he says, "very, very lenient towards me and understand what I am trying to do."
If nothing else, having a job helps him to keep his mind off the 2012 Games.
"I try not to think too much about it because that's a lot of pressure in itself," he said. "I try to focus on the things that I need to do and that's the most important thing.
"Being able to have this opportunity, to be a hopeful for 2012, I am living the dream. To be there would be mind-blowing for me."
Even so, Lawal-Balogun can see an upside even if he does not make it to Olympics.
"This has created a lot of opportunities for me. I have met a lot of people," he added. "It is going to be career-changing but it's not going to let me go downhill because there are other things I can do."
Jeffrey Lawal-Balogun is one of BBC London's featured athletes as part of 'Olympic Dreams' in the build-up to London 2012.