Cumbrian water polo competitors eye Olympic squad
Last updated on .From the section Olympics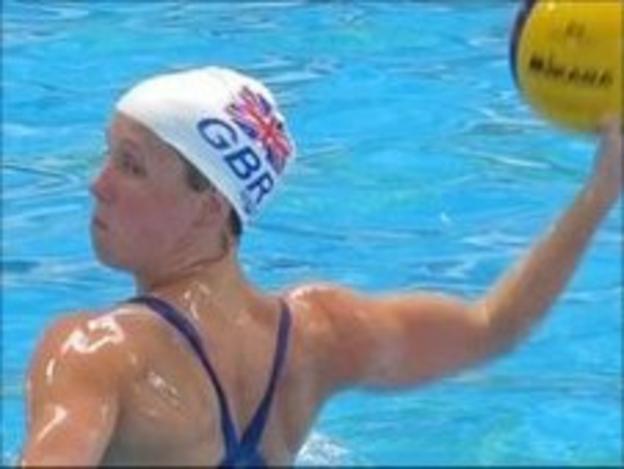 Two women from Cumbria are hoping to be chosen for the GB water polo team at the London 2012 Olympic Games.
Chloe Wilcox and Alex Rutlidge are both part of the senior squad based at the Manchester Aquatics Centre.
Water polo is one of the five world class programmes of the national governing body of British Swimming.
And although Great Britain is credited with inventing the game, they have not competed at Olympic level since 1956, something which will change come 2012.
Wilcox, 24, from Reagill near Shap, took up the sport via Appleby and Penrith Swimming clubs after being influenced by her family.
"I've got four older brothers who played water polo and I got into it after that," she explains.
"But there's not much opportunity in Cumbria, so I had to move away to pursue my training to get to a higher level."
Aged 16, Wilcox moved to Grantham, Lincolnshire, where there was a special water polo academy, before switching to Manchester to take advantage of the recently opened high performance centre for water polo in the city.
Wilcox took part in her first senior international meet at the Four Nations tournament during 2004 in Lille, and she now believes the side can challenge for a medal at the 2012 Games.
Fellow Cumbrian and GB team mate Alex Rutlidge is equally excited about what the future holds for water polo.
The 22-year-old, from Burton in Kendal, made her senior international debut when she was 17, and says she is confident that the women's team can challenge for medals after recent successes against the sport's better sides.
But both Rutlidge and Wilcox are aware that their tough training schedules must be adhered to if the side are to vie for medals.
Each player trains for two sessions every day, starting with a four hour session at 07:00 and again for two hours from 17:00 in the evening.
The final Olympic water polo squad will be 13 strong and could be chosen only a few weeks before the start of the Games.
Chloe Wilcox and Alex Rutlidge are two of BBC Radio Cumbria's athletes as part of 'Olympic Dreams' in the build-up to London 2012.