London 2012: Haroon Khan hopes to better Amir at Olympics
Last updated on .From the section World Olympic Dreams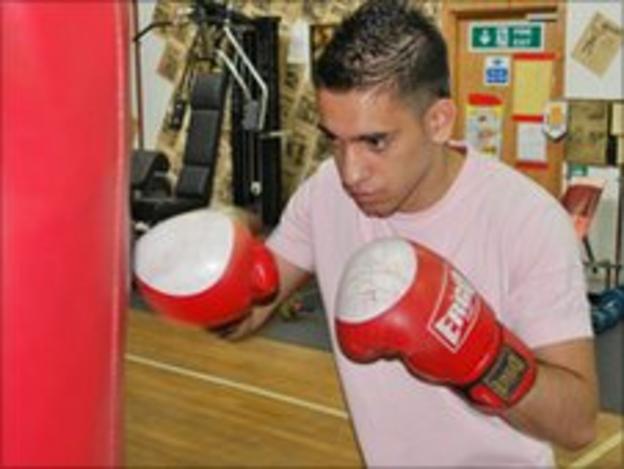 Bolton flyweight Haroon 'Harry' Khan says 2012 will be a "big year" for him, not least because it offers him a chance to better his older brother Amir's Olympic boxing record.
To achieve that the 20-year-old will have to go one step further than the current IBF and WBA light-welterweight champion did in Athens.
Back in 2004, the then 17-year-old Amir took the silver medal for Britain.
But if Haroon takes gold in London, the colour of medal will not be the only thing that would differ from Amir's triumph.
The flag raised behind Khan the younger would be one of verdant green, rather than red, white and blue, as Haroon fights for Pakistan.
He decided to box for the country of his family's roots after not being chosen to represent England at the 2010 Commonwealth Games in Delhi - which saw him take the bronze flyweight medal.
At the time, he said that there was no way he would box at the Olympics for Pakistan as he would be turning professional before 2012.
However, if he puts in an Olympic-qualifying performance at September's World Championships in Azerbaijan, that is exactly what he will be doing in London.
Despite fighting under different flags, the brothers' routes into the sport are similar and it was watching Amir train that drew Haroon to the ring.
"I started boxing when I came to watch Amir," he says.
"I must have been about eight and since then, for the last 12 years, I've been coming to the club."
He is honest about what he liked about the sport initially and what keeps him enjoying it.
"It's an excuse for throwing punches. I'm not a violent person, but it's a fun sport and it keeps me out of trouble," he added.
Michael Jelley has run Bury Amateur Boxing Club, where the flyweight trains, for the last 42 years and produced boxers "year in, year out".
He says Haroon has every chance of superseding his brother's Olympic achievement, providing he puts the work in.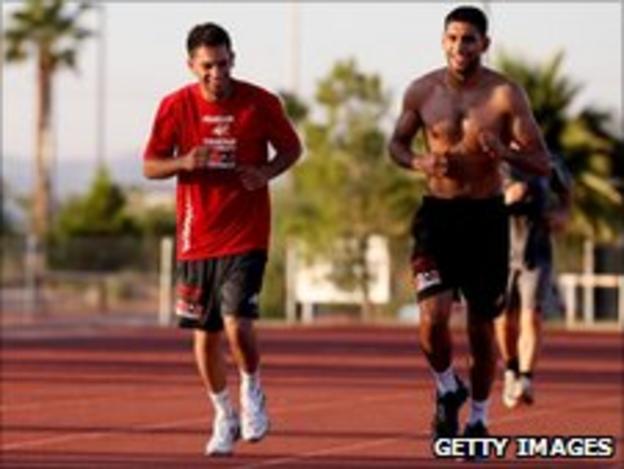 "He says he's a fighter but he can box as well. That's one thing I hope he tries to do - not just think about fighting but think about boxing too.
"It's not just about going forward, it's about going backwards sometimes - he's a clever boxer when he wants to be.
"He's had a bad injury and getting through these [Olympic] qualifiers is going to be a really hard job and it's entirely up to himself.
"He's got the ability to get there, but he's got to get fit. Then he stands a chance against anybody."
Haroon is aware how important the next 12 months are and has just one goal ahead he is focused on.
"It's a big year for me - I've got the Olympic Games and the qualifiers at the World Championships, so it's going to be amazing for me and all good experience.
"I'm going to try and get in as many fights as I can, because I just want to get that gold medal."
Haroon Khan is one of BBC Radio Manchester's featured athletes as part of 'Olympic Dreams' in the build-up to London 2012.