Swimmer Lyndon Longhorne holds Paralympic Dream
Last updated on .From the section Olympics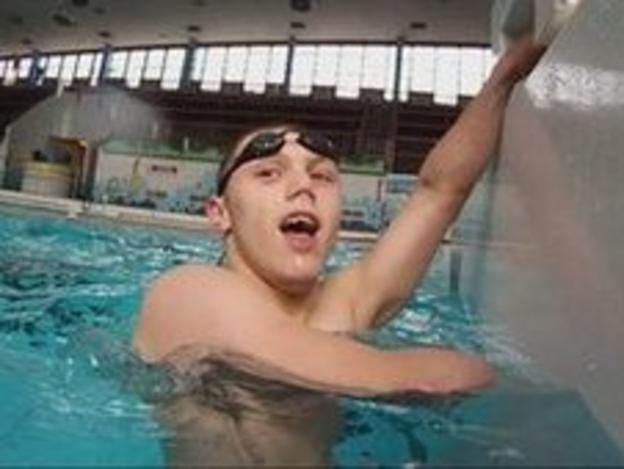 After watching the Beijing Olympics in 2008, County Durham teenager Lyndon Longhorne set himself the goal of qualifying for the London 2012 Paralympic Games.
Longhorne, from Crook, lost both his legs and an arm to meningitis when he was just nine months old.
However, the keen swimmer has not let his disability prevent him from achieving his dreams, deciding he wanted to compete at international level three years ago.
"This is our home country and I'd like to represent Great Britain," he told BBC Tees. "I have had images in my head of being at 2012 and I think 'ah it's just a dream', but then you think if I do get there next year then it can actually come true."
The teenager's love of swimming started at a young age when his grandfather started taking him when he was just a one-year-old.
After watching the Beijing Games Longhorne decided he wanted to turn professional and train for London 2012.
"When I watched the Beijing Olympics I thought it would be a good chance to try for 2012 because I know it was our home country and then I thought I want to try and train for it," he said.
"Then my physiotherapist put me through to a coach and then once I'd been a few times she said I could come back so I thought I must be good."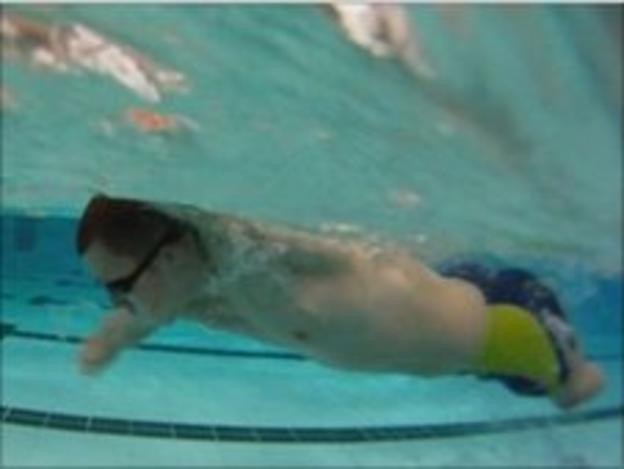 Longhorne is currently training for the Games in the hope of being picked for the squad in the Great Britain trials.
His coach Brad White, said: "He always seems to be able to just step it up when need be, I think it's just his persona, he just keeps on chugging through the workload and just seems to want to get more pb's [personal bests] and work really hard at what he does.
"To him I think he always says 'dream and achieve and believe', and that's what he sticks to and that's where he gets a lot of his motivation from."
Lyndon's mother, Tammy Shevels, has never been surprised by her son's determination in life.
"Lyndon just doesn't surprise me with what he does because I know once he puts his mind to something he's very focused," she said.
"He'd love to try and make it to the Paralympics and that is his ambition.
"I've always said to Lyndon 'there's no such thing as can't' and I think that's really stuck with Lyndon and made him realise if there is something he wants to do, he can do it."
Lyndon Longhorne is one of BBC Radio Tees' featured athletes as part of 'Olympic Dreams' in the build-up to London 2012.
Find out more about him on BBC Look North on Wednesday, 3 August at 18:30 BST.