Gymnast Louis Smith eyes medal podium for London 2012
Last updated on .From the section Olympics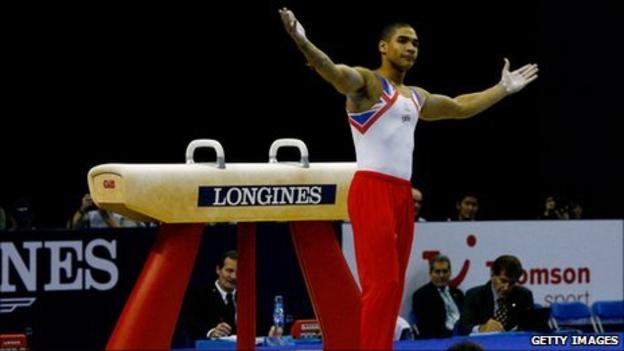 A Beijing bronze medallist is hoping to better that performance in the 2012 Olympics.
Gymnast Louis Smith, from Peterborough, is one of Britain's strong hopes for a medal in the London Games.
Smith took bronze on the pommel in 2008 and that success has dramatically increased interest in artistic gymnastics, especially among boys.
He trains at Huntingdon gymnastics club, alongside other medal hopefuls Daniel Keatings and Luke Folwell.
Smith, 22, said his team-mates keep him motivated "sometimes".
"But they've got a bit of catching up to do," he joked.
"That's not trash talk, but we're about to start getting competitive here, aren't we?"
Smith added: "We're all friends, we've grown up here together and we get along really well. We have a bit of banter, we have our ups and downs but generally it's quite a tight-knit group.
"We're all heading for the same goal and the same destination."
The qualification and selection process for a place in Team GB, representing his country at the 2012 Olympics, begins with the World Championships in Tokyo in October.
Final selection will take place at the British Championships in Liverpool in June.
Does that process keep Smith awake at night?
"I'm not worried about selection and stuff. You know, whatever happens, happens," he said.
"I'm in the gym training and this is my dream. If something happens and it's out of my control then there's nothing I can do.
"Bronze in Beijing was definitely in my control. My routine was in my control. It's part of being a gymnast.
"All I can do is train as hard as I can in the gym and see what happens."
Team-mate Folwell, who took gold in the Commonwealth Games in Delhi in 2010, said Smith had not let his Beijing success go to his head.
"He's a very nice chap and he's really down to earth. He's inspired us all.
"He's come back from Beijing and proved to us that it's possible, and I think mine and Daniel's results have been off the back of that - and we're all pushing each other towards the big goal in a year's time."
Louis Smith is one of BBC Radio Cambridgeshire's three featured athletes as part of Olympic Dreams in the build-up to London 2012.
The station will also be following the fortunes of triathlete Will Clarke and swimmer Lauren Steadman.