Olympic Dreams: Derbyshire Swimmer Ross Davenport
Last updated on .From the section Olympics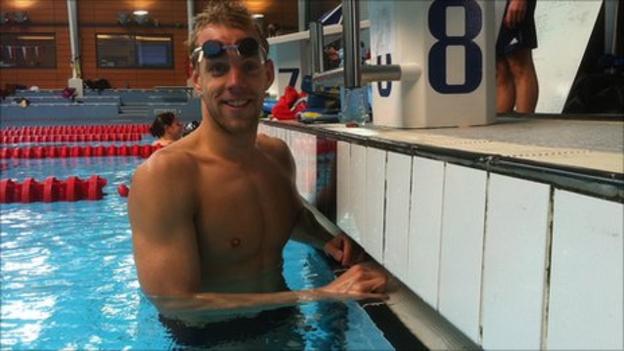 Derbyshire swimmer Ross Davenport says his social life has taken a back seat as he prepares for another attempt at Olympic glory.
The 27-year-old has been spending up to five hours a day in the pool as he looks to give himself the best chance of a medal at London 2012.
It means Davenport, who won two Commonwealth gold medals at Melbourne in 2006, has to go without some of the pleasures most people in their mid-20s take for granted.
"You can have a social life - just not very often," he said.
"You can't just spontaneously think 'I'm off down the pub' because you know there are going to be consequences the next day if you do.
"It's time you can never get back."
Instead Davenport rises at 06:30 every morning and heads to a pool at Loughborough University for hours of monotonous training.
"Every day is exactly the same," he said. "I know exactly what I'm going to be doing from now up until the end of the Olympics."
The former Belper School pupil failed to pick up any medals at the 2008 Beijing Games but whether he wins any at London 2012 or not, he is sure it will be a memorable occasion.
He said: "It's going to be fantastic. I honestly cannot wait.
"I really hope I'm in the team because it's going to be amazing for everyone involved - not only in the swimming and the sport but across the country as a whole."
Ross Davenport is one of BBC Radio Derby's four featured athletes as part of 'Olympic Dreams' in the build-up to London 2012.