Olympic Dreams: Richard Whitehead makes London 2012 switch
Last updated on .From the section Olympics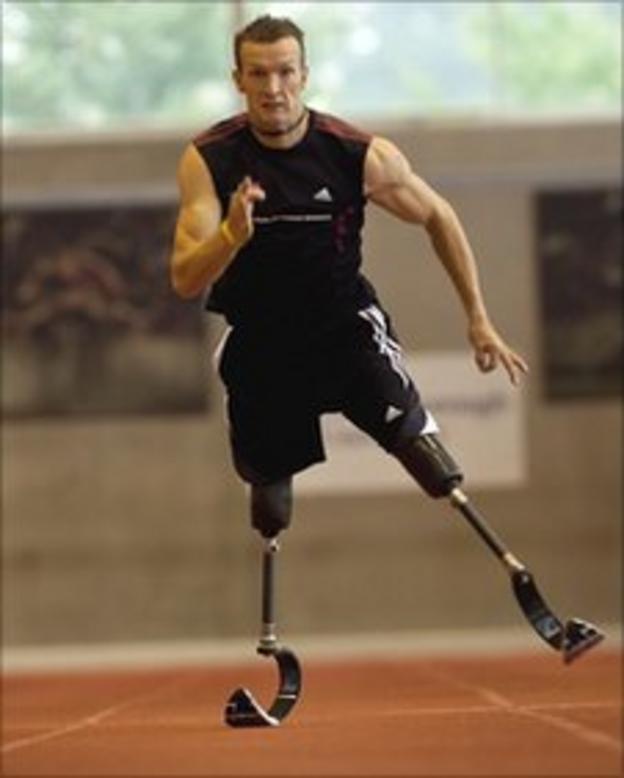 The marathon world record holder for leg amputees Richard Whitehead has said he is fully focused on competing in the 200m at London 2012.
He began the transition from endurance to track with his first season on the international circuit in 2010.
"I'm enjoying it but it's tough on the body," the Nottingham athlete said.
In January he won 200m gold at the IPC World Championships in Christchurch, New Zealand and set a T42 championship record of 25.88 seconds.
Whitehead, who runs on prosthetic carbon fibre legs, said that result spurred him on and he came away with an action plan working towards 2012.
"I'm doing more track sessions now and I've got a track specialist coach at Loughborough University, Keith Anton," Whitehead added.
"He's looking at how I can continue to progress from an endurance athlete to a sprint athlete.
"I have to eat more to put on the body bulk."
Whitehead used to be a sports development officer for Nottingham City Council but is now a full-time athlete. He receives funding from UK Athletics and corporate sponsors.
"It's a seven-day-a-week job, either training or doing media work," he said.
"A lot of people think that an athlete just gets up at eight in the morning and goes for a run and they are done for the day.
"To be a top athlete you're spending four or five hours a day on your specific sport as well as everything else."
Whitehead will next be competing in an event at Stoke Manderville on 30 and 31 July and then the Diamond League meeting at Crystal Palace on 5 and 6 August.
"At any given event between now and 2012 I can qualify. I'll put some times down then and see how I'm progressing," he said.
Whitehead has previously represented his country at cricket and Great Britain at swimming and sledge hockey.
He started running marathons in 2004 and became the first ever leg amputee to finish the marathon in under three hours in 2009.
The athlete had hoped to compete in the long distance event at London 2012 but there are only two races for double amputees above the knee, the 100 and 200-metre sprints.
"I'm not letting that deter me. I've decided that I'll work as hard as I can on the sprints and put myself in a good place to participate."
Richard Whitehead is one of BBC Radio Nottingham's featured athletes as part of 'Olympic Dreams' in the build-up to London 2012.