Olympic Dreams: Warwick Paralympian hopes for success in 2012
Last updated on .From the section Olympics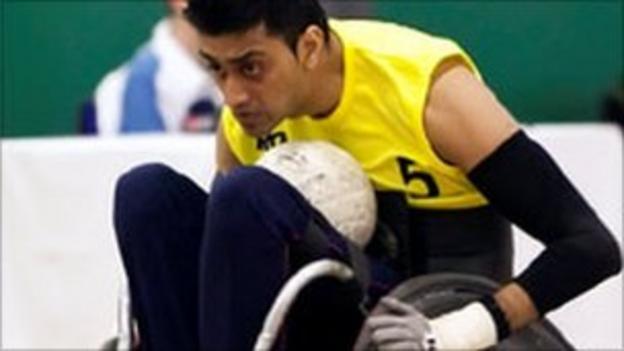 Warwick rugby wheelchair player Mandip Sehmi is hopeful of winning a medal at next year's Paralympics in London.
The 30-year-old represented Great Britain in Beijing but missed out on the podium as the Brits could only finish fourth.
Sehmi told BBC Coventry & Warwickshire: "We're all working as hard as we can to win a medal.
"I've put in so much of my time, as have my team mates. To earn a medal would mean the world to me."
The Paralympian, who injured his spinal cord in a car crash in 2000, made his debut for GB in 2005.
Sehmi won the outstanding achievement award at the British Asian Sports Awards earlier this year and has some other big competitions on the horizon.
He will be competing at the GB Cup in Cardiff in September before heading out to Switzerland the following month for the European Championships.
Having already toured the Olympic Park in London, Sehmi is getting excited about 2012.
"I was amazed and even though the stadium was empty, just the feeling inside was pushing your hairs on end," he continued.
"In Beijing there was 8,000 - the place was rocking. I can't wait for the 12,000 in London. Half of that stadium at least is going to be Brits. It's going to be awesome.
"People tell you so much about the Olympics. You try and get yourself ready for it. It's just mind blowing."